Upcoming Battle of the Bands strikes a chord with student musicians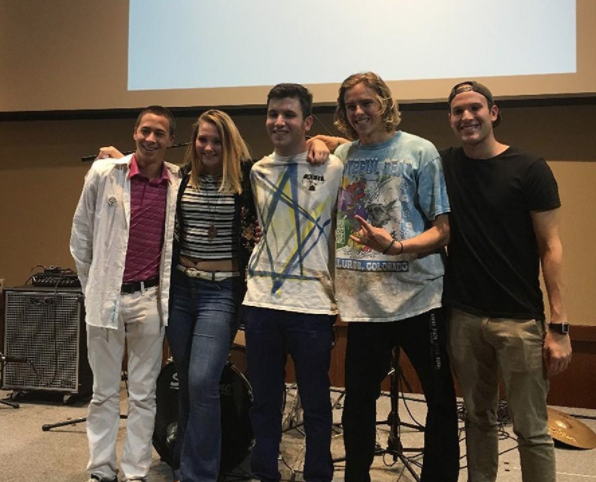 Want to go to a rock, rap, EDM and country concert all in one? Associated Students Greenfest is hosting a Battle of the Bands this Thursday that will include all of these genres.  
This year the winner of the contest gets a once in a lifetime chance, the opportunity to open up for the headliner of Greenfest.
Greenfest is an annual concert conducted at the Cal Coast Open Air Theatre in March that has welcomed performers like YG, Rob Stone, Macklemore and Ryan Lewis, T-Pain and more.
According to the SDSU Greenfest website, the lineup for the concert will be announced this spring. The main goal of the Greenfest organization is to promote sustainability and diversity.
"Seven student acts with sounds ranging from R&B, rap and alternative rock will perform over the course of the nights, in hopes of winning first place and receiving the bid to be the opening act for the GreenFest concert in the spring," sophomore Greenfest chair Caitlin Szikszai said.
Last year, SDSU band Wet Lettuce won and got to open up the concert for YG.
"Battle of the Bands is a really awesome opportunity to showcase student talent and a chance to open up for some really talented, big name artists," Arsh Ballagan, computer science sophomore and Greenfest music and entertainment designee, said.
The event will include live music, an art collaboration with SDSU's Arts Alive and free food and drinks from Luna Grill and Guayaki Yerba Mate with both vegetarian and vegan options.
Performers at Battle of the Bands include SDSU student musicians such as Jackson Dean, Collie & Whomptie, D. Sel, The Abstracts, Village Park, Sonder Collective and Ki.
Communications sophomore and performer Jackson Dean is hoping to walk away from the contest with a win, but also with a great experience.
"The goal is to win but it's also to do my best at giving the audience a show to remember so I'm not necessarily thinking about winning more than I am thinking about how I can perform to the best of my abilities," he said.
The event will take place from 5-7 p.m. in the Conrad Preby's Aztec Student Union's Montezuma Hall.
The organization has hosted other events such as Meatless Mondays, beach cleanups, Grow with Greenfest and more all promoting sustainability in the environment.
The concert allows students to showcase their talents in the comfort of their own school while opening many doors for performers and allows all students to be able enjoy it.
Last years Battle of the Bands had different performances including backup dancers and music videos – all part of a tough competition. 
The event will help young artists get experience and recognition for the hard work they put into their passion.