A series of wildfires swept through Southern California last week, forcing thousands of families to evacuate and costing many their homes.
Fires spread rapidly through the region Dec. 7, aided by the most powerful bout of Santa Ana winds in a decade.
Various fires started throughout the week, including one in North County, one in Murrieta and two south of the U.S.-Mexico border.
The Lilac Fire began about 11:15 a.m. off of Dullin Road near Fallbrook. As of Dec. 12, the fire was holding at 4,100 acres and approaching full containment, according to Cal Fire. The blaze destroyed more than 200 structures.
Murrieta's Liberty Fire was 100 percent contained at 300 acres. It destroyed one structure, and firefighters managed to stop it before it spread to more populated areas.
Journalism senior Marcy Cortez said she her family lives very close to the Lilac Fire's burn area.
"I never thought it would be me," she said. "I feel relieved now, but I'm still kind of worried because I mean, the fire may be 90 percent contained, but since it's going to be dry this entire week, there's a chance that something could happen. I doubt it, but i won't be completely at ease until it's 100 percent contained."
Firefighters from various parts of the country descended upon California to help with the blazes wreaking havoc on the state.
Robert Arguelles is a firefighter from Bernalillo County in New Mexico who was battling the Lilac Fire on Dec. 9.
He said he's accustomed to working in the type of terrain affected by the Lilac Fire.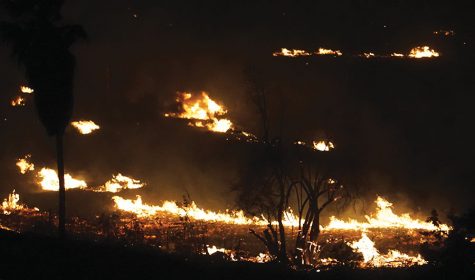 "New Mexico has low humidity and we're close to a river," he said. "It's rare that San Diego has humidity this low, but it's a normal thing for us."
The first and largest of the Southern California fires — the Thomas Fire — began Dec. 4 in Ventura county. By Dec. 12, the fire had burned more than 236,000 acres, spread into neighboring Santa Barbara County and was only 25 percent contained.
Advertising senior Kai Graves is from Ventura County. She said her father, brother, and other family members were ordered to evacuate from their homes due to the Thomas Fire.
She said she received multiple phone calls from her mother about the evacuations on Dec. 5.
"A lot of people who I grew up with lost their homes," Graves said. "It's just crazy thinking that somewhere I used to go to play as a kid is completely gone. It's ridiculous. I am a ball of stress"
The Santa Ana winds are normally at their strongest from June to September, but sometimes continue until the beginning of winter. They are caused by a high pressure system above the deserts of the Great Basin.
One area devastated by the Lilac Fire was the Rancho Monserate Country Club in Fallbrook. They fire destroyed more than 85 homes at the club.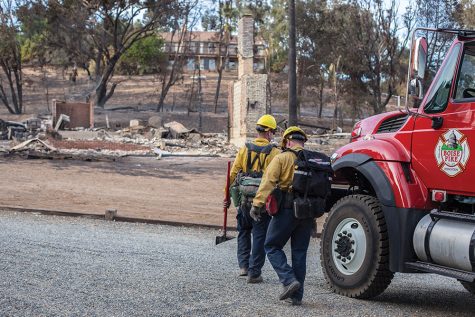 The cause of the Lilac Fire was under investigation as of Dec. 12.