The skinny on SDSU's freshman star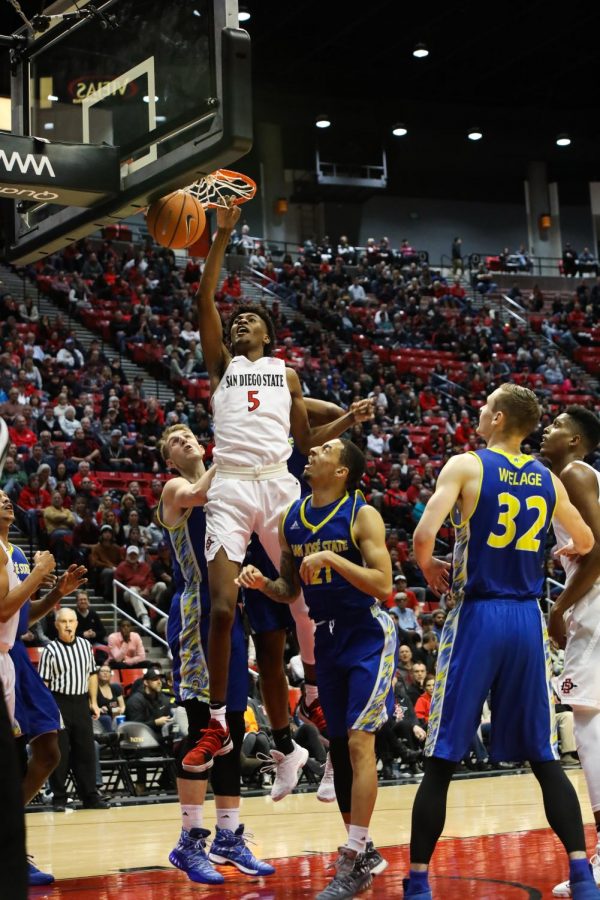 Jalen McDaniels was not supposed to be this good.
Not yet, anyway.
The 19-year-old redshirt freshman from Federal Way, Washington was expected to be a role player, someone who could contribute to the team while learning behind senior forward and team captain Malik Pope.
McDaniels has officially flipped the script, having cemented himself into the starting lineup – five straight starts going into the Aztecs' matchup against Fresno State University –  while averaging 8.5 points and 6.5 rebounds a game this season.
McDaniels is only one of 24 freshmen across the country with those averages while shooting over 50 percent from the field, and he is averaging 11.9 points and 7.6 rebounds in his last nine games.
"Sometimes the decisions are easy when the players make it easy," head coach Brian Dutcher said about placing his freshman in the starting rotation. "He just plays with such a high motor, he plays so hard, and he attacks the glass. What he lacks in physical strength he makes up with quickness and speed."
McDaniels, who supports 195 pounds on a 6'10 frame, may not be the bulkiest guy on the court, but what he lacks in muscle he makes up for in length, effort, and a championship pedigree.
McDaniels averaged 19 points, 10 rebounds and four blocked shots a game during his senior year at Federal Way High School, and led his team to a 29-0 record and a second straight Class 4A State title, according to his official profile on GoAztecs.
"I feel like when I play, even when I wasn't starting, I am always comfortable out there," McDaniels said. " It is something I have been doing for a long time."
ESPN rated McDaniels as the No. 4 high school player in the state of Washington during the 2015-16 season, and he received scholarship offers from the University of Washington and Arizona State University, as well as other schools including SDSU's Mountain West Conference rival Boise State University.
McDaniels posted his best game of the season in the Aztecs 77-68 road win over Colorado State University on Jan. 2, finishing the game with 19 points and 10 rebounds for his third double-double of the season.
"I think you can just see that when he is on the floor. He doesn't play scared. He doesn't play nervous for a redshirt freshman," Dutcher said after the game. "He plays with great confidence and swagger and that's what I want from him."
Patient is another word you might use to describe McDaniels.
During the 2016-17 season, he was a member of the scout team, as well as being apart of the team's travel squad. The only games he played were exhibition matches against UC San Diego and Cal State San Marcos.
This despite the fact that he was named as the preseason Mountain West Co-Freshman of the year alongside Utah State's Kolby McEwen.
Dutcher said that the year off was good for McDaniels, who had the opportunity to grow as a player learning under more experienced Aztecs players.
"He had a year of hard practice under his belt going against Malik (Pope), Nolan (Narain), Valentine (Izundu), Zylan (Cheatham) and Max (Montana)," Dutcher said. "He got some good experience last year sitting out. Now he's getting game experience, so now he's slowly starting to grow his game."
One aspect of McDaniels' game that Dutcher doesn't worry about is the energy and instincts he brings to the court.
"You don't have to call Jalen's number for him to be productive. He just plays off everybody else," Dutcher said. "You have to have instincts to do that and Jalen has great instincts when he is out on the floor. He knows where to move, how to move and how fast to move."
Junior guard Devin Watson, a transfer from the University of San Francisco who redshirted for the Aztecs during the 2016-17 season, said that McDaniels is playing above his experience level.
"(McDaniels) is doing well, he is not playing like a freshman," Watson said. "He really used last year to get better and I feel like it paid off."
Pope, the player who McDaniels spent a year learning under, said that he expects greatness from his potential successor as a leader on the court.
"I've got nothing but high hopes and high expectations for (McDaniels)," Pope said after McDaniels scored 14 points with 12 rebounds in the Aztecs victory over Bradley on Dec. 3. "He showed tonight his capabilities, and that just the smallest piece of it. He has a lot of potential and, you know, as I far as I'm concerned he can do just about everything out there. I'm excited for him and for this team."
One area that McDaniels sees himself needing to improve upon is his outside shooting, having made only one shot from behind the arc on nine attempts this season.
"Three-point shooting, making those open shots–that's where I feel like I can grow the most and I feel like that will elevate my game more and help our team win," McDaniels said.
In time, perhaps, the outside shot will begin to fall.
For now, the Aztecs are just happy to have McDaniels playing his brand of basketball.
"Jalen McDaniels, the skinniest guy in basketball, continues to just move around and get rebounds and play hard," Dutcher said after McDaniels had 15 points and 10 rebounds in the Aztecs upset win over Gonzaga on Dec. 21. "He's an energetic, fantastic young player that's going to have a really nice future here at San Diego State."