New Engineering and Interdisciplinary Sciences Complex opens its doors
On the first day of the spring 2018 semester, San Diego State Officials unveiled the new, multimillion-dollar Engineering and Interdisciplinary Sciences Complex.
The 85,000-square-foot building houses 17 research and teaching labs and doubles the amount of workspace for students and faculty in the College of Engineering.
These labs will allow students in engineering, science and technology fields to create new ideas and collaborate on projects with other STEM majors.
The new building is key to the university's long-term goal to be ranked among the top 50 public research universities in the U.S.
"Beginning today, our students and scholars will collaborate, create, explore, discover and innovate in flexible spaces with cutting-edge technology," SDSU President Sally Roush said during a ribbon-cutting ceremony for the building Jan. 16.
Roush also revealed the Thomas B. and Anne K. Day Quad and the Elliot Hirshman Terrace, which were named after two former SDSU presidents who made significant contributions to the development of the building, during the ceremony.
Vice Chair of the California State University's Board of Trustees and SDSU alumnus Adam Day said the complex represents new research and discoveries that will drive the economy in the future.
"It is now the newest building in the CSU and perhaps the prime example of a truly leading-edge facility," Day said.
The complex features rooms designed to serve various disciplines and departments. One of the larger rooms, the Wayne E. and Mary Beitler Leutloff Student Innovation Center, is over 2,000 square feet and is occupied by student organizations that specialize in robotics, rocketry and building complex machinery.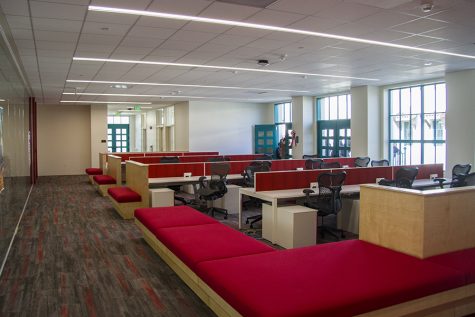 Greg Essayan, a member of SDSU's Aztec Racing Formula Society of Automotive Engineers team, said the new building will make it a lot easier for the team to stay organized.
"The new facility is nice, and having some newer equipment should help us as we continue working on our newest car," Essayan said.
Chemistry senior Sabrina Younan said she is most excited about the opportunity to collaborate with researchers from different engineering groups.
"It will be nice to bring similar ideas together from different fields and people within the building that wouldn't normally interact with each other," Younan said.  
The lower level of the complex also features an MRI Suite and Imaging Center where students and researchers will have the opportunity to study diseases such as Alzheimer's and autism through neuroimaging.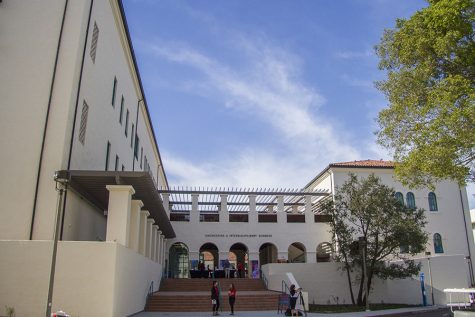 Environmental engineering junior Lorelay Mendoza said she already prefers the new environmental teaching lab in the EIS complex over the old lab in Adams Humanities because it can accommodate more students in an open space.
"My mentor and all of the students are just so happy to be in a larger space where we have room to do all the experiments and we know it's safe," Mendoza said.
Felipe Jared Guerrero Moreno, a senior computer science major, said he appreciates SDSU's administration for taking a giant leap forward and creating a place where STEM students help each other and share ideas.
He also said creators and sponsors of the building have already asked for feedback from students and staff, and they want to know what improvements can be made and if the complex is suitable to their needs.
"It's nice to know that the people who made this space for us will continue to make it better with our help," Moreno said, "There's always room to grow."