New university president has a diverse background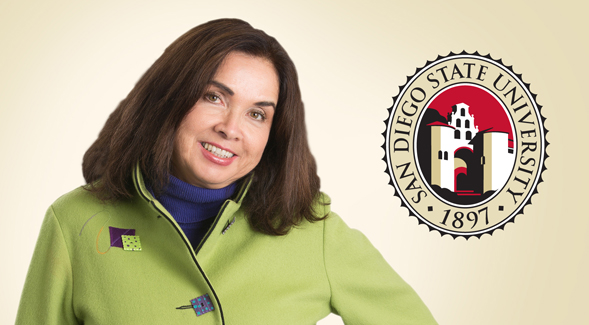 San Diego State's next president has a history of working with diverse groups of students on a wide range of issues.
It's even in her job description.
Adela de la Torre — soon to be SDSU's first female permanent president — is currently vice chancellor of student affairs and campus diversity at UC Davis, 15 minutes west of Sacramento.
Just as ever, she'll be facing a diverse set of issues when she comes to San Diego State in June. By then, Interim President Sally Roush hopes to come to a final decision on the appropriateness of SDSU's Aztec mascot, after a task force investigates the subject.
De la Torre, for now, declined to give an opinion on the mascot.
"I will be looking to President Roush, who is working with the task force on that issue," she said. "It is a very complicated issue. It is an issue that of course elicits a lot of emotions on both sides. And right now I would say I am in the beginning of the learning curve process."
The new president is more outspoken about issues pertaining to undocumented students.
"At UC Davis, I started one of the first AB540 and undocumented student centers," she said.
De la Torre said these types of resources are important for students who are at-risk or disadvantaged. She pointed to SDSU's Pride Center and commuter resource center as examples.
"I have quite a lot of experience building these centers and creating partnerships through the UC system as well as the school of law to ensure that our students understand their legal rights," de la Torre said. "Every group that feels the need to have that kind of support and understanding is something that I am very clearly interested in learning about and learning from the student affairs staff."
She said in her view, one of the university's strongest attributes is its diversity.
"And I think in the context of leadership, whether it's faculty or it's in administration, the greater the diversity in leadership, the more perspectives that can be brought to a campus," she said. "I would hope through my experience and my background, that the perspectives would be valued in the context of (not only) a president but also working with my leadership team, because my leadership team also will work to reflect a diverse set of perspectives as well."
SDSU Associated Students President Chimezie Ebiriekwe was a member of the university's presidential search committee, which sent three presidential candidates to the CSU Board of Trustees for a final decision. He said he was looking for a president with a knowledge of "how SDSU is different from other CSUs."
"The culture here at SDSU is one that takes into account the perspectives of various stakeholders across campus when making decisions, and (the new president) coming in with the mindset to keep that culture going is important to me because as a student, being able to have voice that can enact change has been an important aspect of my college career," Ebiriekwe said.
Maria Ibarra, chair of the department of Chicana and Chicano studies at SDSU, said she's excited to see de la Torre joining the SDSU community.
"I very much appreciate that she is student focused and that her academic background includes a concern with inequality and health access as well as community engagement," Ibarra said. "I also like that she has successfully collaborated with scholars from many fields, including mine. It makes sense to me that an accomplished scholar and administrator with her expertise and background be chosen as President of SDSU given our university's location so close to the border, its concern with issues of diversity and inclusivity, and its status as a Hispanic Serving Institution."
De la Torre will visit SDSU on Thursday, starting with a meet-and-greet at Montezuma Hall at 9 a.m.