Documentary shares story of police shooting, mental illness and a family's fight for justice
San Diego State alumnus Erik Ljung premieres his first feature length film "The Blood is at the Doorstep"
Listen to an audio preview of the article here.
Community members and supporters met at a candlelight vigil to support the Hamilton family and the tragedy that occurred. At the vigil Dameion Perkins overheard a neighbor in the crowd of dimly lit faces say his deceased brother was homeless before his death.
This was false.
He turned to his mother, out of frustration for how his family was being portrayed, and said, "We need to make a movie."
And that is what happened.
"The Blood is at the Doorstep," directed by San Diego State alumnus Erik Ljung, looks into the 2014 police shooting of Dontre Hamilton, and the unseen moments his family faces while dealing with an unapologetic media, mental health falsities and a questionable criminal justice system in the process of finding justice for him.
The film tells the story of Dontre, an unarmed African-American man diagnosed with paranoid schizophrenia, who was shot 14 times by a Milwaukee police officer responding to a non-emergency wellness check. Ljung followed the family as they navigated through the chaos of getting answers from the police, dealing with false media portrayals that plagued their family name and mourning the loss of their loved one.
"At the core of it, it's about family, it's about growth and it's about challenging power structures," Ljung said. "But it's also examining mental health issues related to policing and the inherent challenges with that."
Ljung graduated from SDSU in 2008 with a bachelor's degree in graphic design. However, years after graduating he made the switch to pursuing journalism and photographic related work — something he knew he had always wanted to do.
His freelance work brought him to Milwaukee about 10 years ago. Ljung said he was initially intrigued by the Hamilton's story because of the unusually high amount of gunshots fired for a non-emergency wellness check in the middle of the day — he was left with many questions.
He reached out to the Hamilton family at one of their first rallies, and that soon began their nearly four year journey together.
"The things people were saying about the Hamilton family were disgusting, and that wasn't the family that I knew," Ljung said. "I just felt like if people got to know this family it would change the narrative in Milwaukee, but also for a lot of families going through something like this."
On the day of Dontre's death, he was sleeping in Red Arrow park. This led to the assumption of him being homeless. Dontre was not homeless, but many media outlets held on to this falsely reported narrative.
In addition, one year before the shooting, Dontre was diagnosed with paranoid schizophrenia. Dameion Perkins, Dontre's half-brother, said Dontre's condition was never something he dealt with alone, and that he never acted irate — the only thing he had gotten in trouble for was a speeding ticket. However Perkins believes the authorities never knew about Dontre's condition until his mother told them hours after the shooting occurred.
Like him being "homeless," the media and police authorities attached on to his mental illness as a justification for his death.
However "The Blood is at the Doorstep" shows the efforts of the Hamilton family trying to rid the falsities surrounding Dontre's name, and tell the story of what really happened.
"It's inspiring that we get the opportunity to tell our truth versus our loss. We lived a tragedy, but we also know the positive and stick together," Perkins said. "A lot of families break apart due to their own issues, but we stay together."
The death of Dontre pushed the Hamilton family to become activists in a fight that has plagued America for decades — a fight they would have never imagined themselves to become advocates for.
"The Hamilton family were not activists, they were apolitical people and forced into a fight and they created a lot of change," Ljung said "Even to this day they wouldn't tell you they are activists, they were forced into this."
In the film Nate Hamilton, Dontre's brother, calls himself a non-confrontational person.  However this trait in him and his family was tested as media inaccuracies and relationships with the criminal justice system were tested.
The documentary was shown as the closing film of the Human Rights Watch Film Festival on Feb. 4 at The Museum of Photographic Arts in San Diego. Ljung and Perkins, adorned with a handmade denim jacket painted to promote the movie, attended the screening and participated in an audience Q and A after.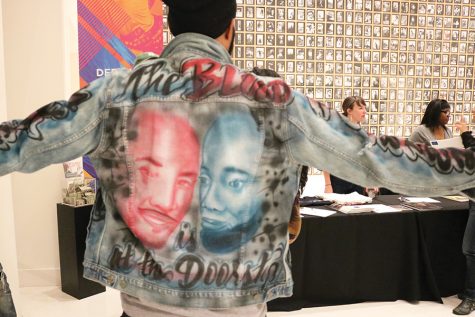 "Now that you've had the opportunity to see the film, did it change your perspective?" Perkins asked the attentive audience. "You get the opportunity to see the family involved with the police and what we have to go through."
The film has been screened at the SXSW Film Festival and has been well received by audiences and critics alike.
"This was the hardest thing I have ever done financially, mentally, physically and emotionally," Ljung said. "Now it's just open to public scrutiny and there's no feeling like it."
The film shows the grassroots efforts of community organizing from the earliest stages of its formation, something that isn't usually seen in films involving activism.
Compared to the publicity of police brutality cases in cities like Ferguson or Baltimore, the story of Dontre Hamilton's death in Milwaukee wasn't as known nationwide.
"Some people think cases that reach a national level are more believable or they're more tragic, but I think to these families it doesn't really matter the circumstances," Ljung said. "The loss is the same for the families involved and it's really unfortunate that some families don't get the community's support because it doesn't hit the media."
According to an ongoing database being collected by The Washington Post, 995 people were shot and killed by police in 2015, just one year after Dontre's death. The number of deaths continue with 963 people in 2016 and 987 in 2017. While these reports are comprehensive of cases in which suspects were both armed and unarmed, The Post reports mental illness played a role in a quarter of the incidents.
There is no comprehensive database for police related shootings.
"The blood is at everyone's doorsteps if we're ignorant to the fact of what's going on outside of the door," Perkins said. "It means that whatever your talent is, use it in a way that you can use it. Some people don't want to protest, but there are things we can do within our communities where we can help each other."
To join the Hamilton family in their fight for justice, follow Coalition for Justice on Facebook and mothersforjusticeunited.org.
"The Blood is at the Doorstep" is being screened in select cities across the country.