GreenFest sustains the campus community with a week of events
The popular concert event proves to be more than just a show, but a week of impactful demonstrations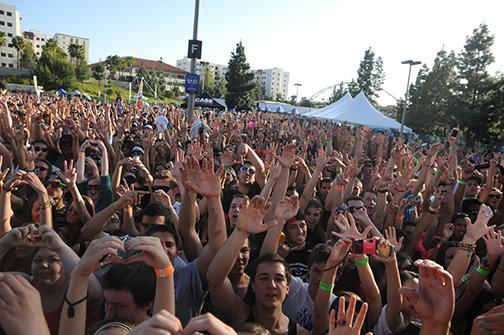 GreenFest, presented by San Diego State's Associated Students and SDSU's Enviro-Business Society, kicks off another year of its GreenFest Week, Feb. 25-Mar. 4.
Often recognized for the GreenFest concert, having brought performers like YG, Chance the Rapper and Jeremih in previous years, it also hosts a variety of events during GreenFest Week pertinent to the organization's values.
GreenFest chair and international business sophomore Caitlin Szikszai wants students to know they work to create a more sustainable campus and educated student body.
"The purpose of GreenFest is to raise awareness about sustainability on college campuses. If I could have students learn anything from the events that we put on, it's to be more conscious of what they use in their day-to-day life, how they dispose of things in their day to day life and the consumption of materials and resources," she said.
Szikszai has been an advocate for sustainability and was delighted to see an organization working toward that.  
"If you see a girl digging around trash cans on campus, that's definitely me. If I ever walk by an open trash can and see something that should be in the recycling bin, I'll just pick it up and put it in there," she said.
Szikszai joined GreenFest her freshman year and now, as chair, wants to include some of her ideas on improving the organization and its efforts. She is excited to reintroduce the EnviroFashion Show back in the lineup of events after a brief hiatus.
In previous years, the fashion show featured outfits teams made from trash or recycled items like soda cans and plastic bottles. This year's fashion show encourages other creative forms of sustainability.
"They're going to be doing outfits that you thrifted. Tons of students have signed up and they're going to show off clothing that they made or that they've thrifted to encourage secondhand buying or using sustainable resources to make your own clothing," Szikszai said.
Szikszai said she wants to improve GreenFest, challenging it to go further than just giving out reusable items.
A project she hopes to get off the ground is a recycling education program targeted at students.
Szikszai feels a program dedicated to educating students about sustainability will help the university reach its goals toward a sustainable campus, similar to the sexual assault and consent session new students experience during New Student Orientation.
"It's very easy to put out facilities as zero waste but in reality the students are the ones using the facilities. If SDSU truly wants to go zero waste it has to look at educating its students on how to have a zero waste lifestyle," she said.
Media studies senior Czarina Greaney said she did not hear about GreenFest or its events until recently, but the organization's mission piqued her interest.
"I would like to learn more about this organization and see how I could be a part of it and help," she said.
Media studies senior Sabras Gorgees was on the same boat as Greaney. He, too, was interested in the work GreenFest does and shared similar opinions with Szikszai about SDSU's sustainability.  
He said he thinks SDSU and the community can work on improving their sustainability efforts.
"(SDSU does its) part, it's our job to do our part as well. They can't do everything for us," he said.
So how can one get involved?
Szikszai said becoming part of the action team is a great start because students can help with events and get to know the people in the organization.
The action team meetings are from 1-2 p.m. every Friday in the Presidential Suite at the Conrad Prebys Aztec Student Union.
GreenFest strives toward a more environmentally conscious campus and Szikszai believes their goals are attainable through education.
"It's so easy to live your life without thinking where you should throw away a plastic cup or how long you should leave your lights on, but as soon as you become more conscious of it, you reduce your footprint by a lot. If we're able to have the whole campus a little bit more aware of the impact they have on the earth, we can make a very big change," Szikszai said.