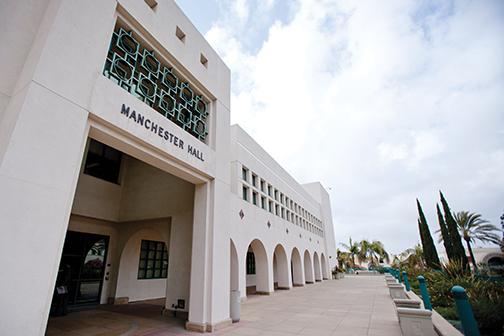 Doug Manchester, a San Diego State alumnus and the former owner of the San Diego Union-Tribune, has been accused of misconduct during his time at the newspaper.
Manchester is well-known real estate magnate in the San Diego region.
In 2005, SDSU named Manchester Hall after him when he donated $5 million to the university.
Previously known as Centennial Hall, the building houses the office of SDSU's president.
Some students feel it's inappropriate to have a campus building named after someone who's been accused of sexual misconduct.
The Washington Post, who first reported on the story, said that Manchester, who prefers to be called "Papa Doug," had an "unsettling management style" while owner of the Union-Tribune owner.
According to the Post, several female staffers have come forward with allegations of sexual misconduct, which many other staffers say they witnessed happen in the newsroom.
The article said Manchester required some female staffers to wear short black dresses and serve as hostesses for advertisers and other guests. According to other staffers, the post reported that "Manchester once pulled an employee into a hug so intimate, it startled onlookers."
A former executive told The Washington Post, under condition of anonymity, that "it was a boys club, and the boys picked which women they wanted.
Manchester is President Donald Trump's nominee for ambassador to The Bahamas. There are no reports that the allegations of misconduct will affect his confirmation.
"I think it would be very unethical to keep (Manchester Hall) because that sets a bad tone," psychology freshman Maya Baca said. "We want to have upstanding people represented at school and representing us."
Interdisciplinary studies junior Johanna Lazar said  that if enough people have come out and accused Manchester of sexual misconduct, the school should consider renaming its building.
"The school shouldn't support someone who's done that kind of stuff," Lazar said.
So far, none of Manchester's accusers have sought legal action against him, which is why communications junior Gian Carlos Gonzalez thinks that the SDSU community shouldn't be so quick to criminalize him.
"We need to consider that this guy has done a lot and given a lot back," Gonzalez said. "Until the allegations are (proven) true, we should keep the building named after him."
SDSU isn't the only campus in San Diego with buildings bearing Manchester's name. University of San Diego and Cathedral Catholic High School also have structures named after him.
While the consequences of the allegations against Manchester extend well beyond renaming campus buildings, students like Baca feel it would be a step in the right direction.
"I think it's important that we set the tone that there are consequences for these kinds of actions, especially for people with power," Baca said.
University spokesperson Jill Esterbrooks said that the university is not currently looking into renaming the administration building.
"At this time, there are no discussions to change the name of Manchester Hall." Esterbrooks said in an email.