By a slim margin, student voters approved a fee increase to fund an expansion proposal for the Aztec Recreation Center in a campus-wide referendum, according to returns released Wednesday night.
The measure passed by 51 percent, with 3,371 'yes' votes and 3,216 'no' votes.  A total of 23.18 percent of San Diego State's student population turned out to vote on WebPortal.
The current Student Body Center Fee will increase by $195 per semester, to $432, beginning fall 2021, when the proposed 70,000-square-foot expansion of the ARC that the fee pays for will be complete.
The fee increase will also cover the cost of using the ARC for all SDSU students. Once construction is over, the current monthly membership model will be done away with.
ARC membership is included in on-campus housing charges, but students who live off campus currently have to pay $19 per month to access the gym.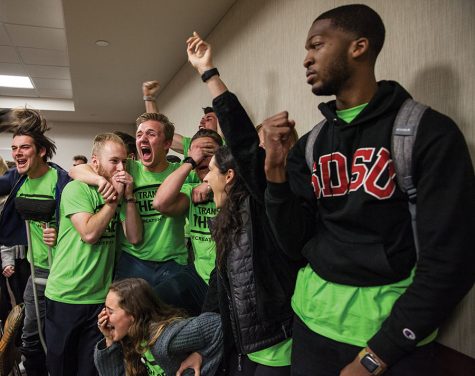 Construction is set to begin in spring 2019, and will be divided into two phases. The ARC will maintain its 24-hour schedule during the construction.
Associated Students Vice President of University Affairs Chris Thomas said what's coming up next is the planning of the facility with the help of students.
"The only thing that is set in stone is the square footage of the facility, everything else is our campus to make it what we want it to be as students," Thomas said.
He said  the planning process will take eight to 10 months.
"We're going to ask students from different communities to make sure we account for everything that we want to put in the facility." Thomas said.
It was Associated Students President Chimezie Ebiriekwe's final student campaign, and he said he feels accomplished.
"We're the last university to have the monthly (gym membership) model implemented," he said. "This new recreation fee will be able to not only expand the ARC, but expand the student staff so (there will be) more student employment and more student participation in all aspects of Aztec recreation."
For some present at the announcement of the vote totals at Templo Mayor in the Conrad Prebys Aztec Student Union, the outcome of the vote was emotional.
Students from the 'Yes' campaign hugged as students from the 'No' campaign held posters and took to the podium to protest the new fee increase.
Among the members of the 'No' campaign was sustainability and American Indian studies senior Marissa Mendoza.
"I'm hurting for people who do have to pay this fee," she said. "I'm hurting for future generations."
Mendoza said she thinks Associated Students should devote its energy to other areas, like student hunger and homelessness.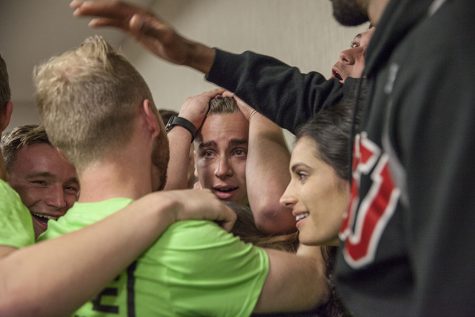 "They need to start listening to students," she said.
Thomas said he understands their pain and is going to fight to get scholarships for students.
"I completely sympathize and I understand where they're coming from," he said. "I'm going to  fight tooth and nail to make sure that no student is left with that burden of having to pay out of pocket and having that as a burden."
He said he is "humbled" by the results and believes the passage of the referendum will give students new access to recreation and ultimately be to their benefit.
"I believe in this project so much and the reason why I reacted the way I did, that genuine reaction of happiness, (is) because the value of this project really is going to help all students," he said. "And we as current students can't all see that but future students, when they benefit, it'll be visible for sure."