Fête gallante is a French phrase used in art, defined as a representation of elegantly dressed groups at play in a rural or parklike setting. However, for San Diego State graduate student Remi Dalton, the words fête gallante double as the title of her kitschy and colorful mixed media piece currently featured at the SDSU Downtown Gallery.
The new group exhibition called "Transforming Existence" explores surrealism and its focus on releasing the creative potential of the unconscious mind.
Dalton's artwork – a vintage-looking tablecloth embroidered with flowers, spotted with golden patches of cellophane and topped off with painted-green mini polaroids – is one of the exhibition's more romantic pieces, and its surrealist qualities are cleverly subtle. Until one steps close to the quilt, they might view Dalton's creation to be nothing short of agreeable. On the surface it seems like the kind of DIY project even a close-minded grandmother would enjoy.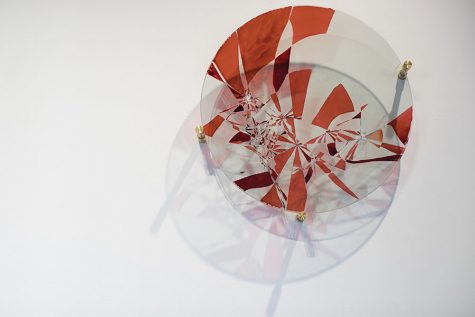 But the artist, who's studying for her master's in fine arts in painting, notes that this detail is where the piece's surrealism rests heavy: mountain climbers lay dead on the top of Mount Everest, while a chesterfield chaise lounge sits below a twinkling chandelier.
"It's supposed to have the energy of a picnic on the grass, but as you get closer to it, you realize that it's actually weird, cheesy material," she said about Fête Gallante, also revealing that the piece reflects her art practice of using domestic materials, like blankets or tablecloths found at a yard sale, as objects that challenge people's perceptions of tastefulness.
In this way, her personal interest in romanticism joins surrealism in her quilted piece – she finds the "romantic side of mundane stuff" by weaving it with oddities, such as the strange snapshots stitched to the square cloth.
And though Fête Gallante is one student's inimitable take on surrealism, it's merely one of more than 50-something pieces featured in "Transforming Existence."
From painting, photography, furniture and mixed media, to sculpture, jewelry, ceramics and digital art, the exhibition epitomizes the idea of diversity and inclusivity in art, and its assortment of art forms enables curious observers to remain alert and engaged as their travelling eyes greet the pieces that portray surrealist aesthetics uniquely fashioned by their creators' imaginations.
Perhaps at the core of "Transforming Existence" is the power of imagination. The surrealist movement was spurred by artists who were interested in subconscious liberation and desired to maximize their imaginative potential to improve their art, said David Fobes, professor in the School of Art and Design, whose mixed media artwork – a brightly stunning piece incorporating audio, high-definition video and painting – has its own isolated space in the gallery.
"It doesn't get more imaginative than (surrealism)," Fobes said. "When you think about 'imagination,' the word embedded in there is 'image.' I think if artists are creating works that are imaginary, inventive, creative or curious, we're thinking visually. We're thinking about images and asking, 'How do you get that image out there?' That thought process is a huge part of making certain kinds of art."
Fobes also said in the realm of art, analyzing an artists' career and looking at the way their work has transformed over time reveals a sense of imagination.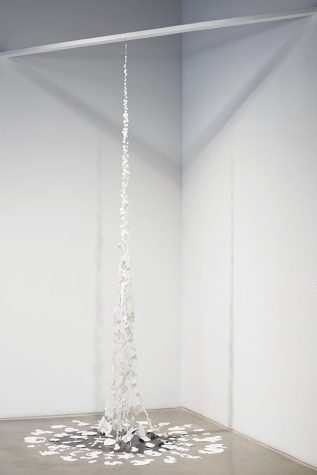 Artists like MFA student Marie Bravo – whose featured oil painting and copper jewelry piece mark her first exhibition showings – said her work pulls from imaginative, mythical concepts, such as mermaids and fairy tales.
"I'm really fascinated by the works of artists like (Salvador) Dalí and the psychedelic state of mind," Bravo said. "I really like exploring dreams and finding meaning in them, and combining that with my interest in fairytales."
The concept of imagination is tightly hinged to surrealism and the featured pieces in "Transforming Existence," but this is no coincidence. As the fourth show in an annual series of exhibitions inspired by SDSU's campus-wide initiative called the "Common Experience," which serves to facilitate interactions among the university's faculty, staff and students through a focus on contemporary themes, the new exhibition aligns with the initiative's current theme, "Experience Imagination."
Beyond its thematic relevance, the Downtown Gallery's latest exhibit matches the purpose of the "Common Experience" by showcasing the talents of not only 39 undergraduate and graduate students, but also seven faculty members, including Fobes, whose interactive piece titled "Psycho Dos Us" is the immersive, 9-minute-and-20-second result of a summer's worth of intensive video editing on both his iPhone and MacBook. Amongst the exhibition's dozens of artworks, this mixed media presentation is certainly the most psychedelic piece in "Transforming Existence."
After entering the secluded area of "Psycho Dos Us," tossing a pair of headphones and melting into the rich, geometric patterns and rainbow images of Fobes' creation, it's almost impossible to leave the enclosed room afterward without words like "trippy" or "woah" floating to the front of one's mind.
Members of the SDSU community can experience the surrealist artistries in "Transforming Existence" through April 8 at the SDSU Downtown Gallery. But students featured in the show, such as Dalton, want those interested in the exhibition to know that a knowledge of surrealism, or experience in art, is not necessary to enjoy the showcase.
"We're always interested in (everyone's) comments and opinions," Dalton said. "There's something for everyone at the show, and people who are into any kind of art can find something they like. Hopefully they'll discover something new."