Elevate SDSU slate sweeps A.S. elections — except for one seat
Ronnie Cravens defeats Elevate SDSU candidate Anya Shutovska for vice president of university affairs
 Associated Students election returns Thursday night showed every member of the Elevate SDSU slate will sit on next year's A.S. executive board, except one.
The executive board will consist of Chris Thomas as president, Nick Wohlman as executive vice president, Michael Wiafe as vice president of external affairs, Christian Onwuka as vice president of financial affairs and Ronnie Cravens — who defeated Elevate candidate Anya Shutovska — as vice president of university affairs.
"Anya's been working for this position since forever — since I met her as a freshman," Thomas said. "She's going to keep working and I'm going to make sure that she stays involved and does what she needs to do."
Prior to her loss, Shutovska said she is happy to have worked with "such a great group of people" and that she will always care for SDSU.
"I still love SDSU and I've given it everything that I have," Shutovska said.
Cravens said he wants SDSU to feel like a "home away from home," and that he is confident in his ability to take on his new role as vice president of university affairs.
"I'm confident in everything I do," Cravens said. "I wouldn't have signed up for this position if I wasn't confident in everything I've done."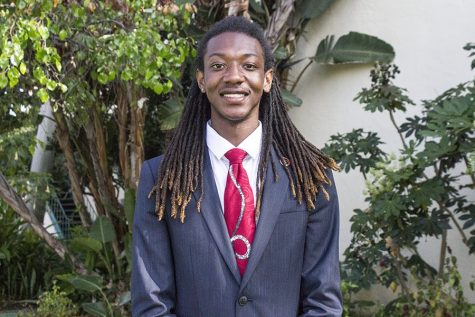 Despite competition from two write-in candidates, Chris Thomas was still able to secure his spot as A.S. president. While he was distraught over Shutovska's loss, he said he has many aspirations for his time as president.
"I never want to be known as 'A.S. president Chris,'" Thomas said. "I want to be known as Chris."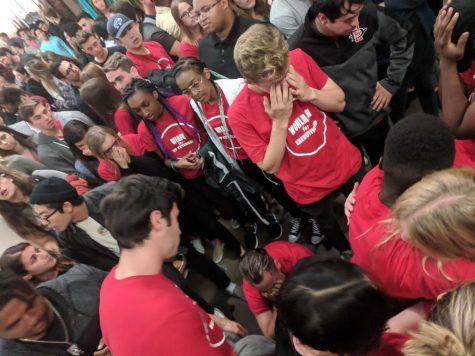 Wohlman was one of three candidates who originally ran for executive office unopposed — Thomas ended up with two write-in opponents late in the campaign. Despite this, he said he worked hard talking with students to explore their expectations.
"I wanted to have them show me what they're about and I wanted to show them what I'm about," Wohlman said.
He said, for him, the work in his role as executive vice president starts now.
"I'm going to start working right away," Wohlman said. "I love everything I'm about to do in this position. There's no sleep, I can't take my foot off the gas."
Latrel Powell, the losing candidate for vice president of external affairs, ran alongside Cravens on the It's Time SDSU slate and lost to Wiafe. Powell said while he was sad for his own loss, he was extremely proud of Cravens.
"I'm so proud of Ronnie because I know he's going to make a lot of people proud and represent everybody we've (vowed) to represent," Powell said.
Paige Doherty, computer science sophomore and one of three campaign managers It's Time SDSU, said she was let down by Powell's loss.
"It was definitely hard to see Latrel in the position like that, seeing all the work that he had put in and all of the heart and passion," Doherty said. "But I'm excited to see what he does this year regardless."
Political science sophomore Tiana Loving said she has mixed feelings about the election results.
"I feel like a lot of people really deserved the positions that they gained tonight, and at the same time, I'm a little bit sad about some people that didn't get positions that worked really hard for this election," she said.
At the end of it all, Thomas said he is ready for what's next.
"Elections are elections, and you gotta move forward," Thomas said.
Will Fritz contributed to this story.