Powerhouse trio Thirdstory makes harmonious stop in San Diego
When the stage lights dim and the house lights rise, crowds are meant to leave. But at Thirdstory's San Diego show, the crowds kept dancing, grooving and singing to The House of Blues playlist, a reaction only fitting for the unforgettable preceding performance.
The up-and-coming New York-formed trio's popularity began with posting web videos of popular covers. The videos quickly went viral.
This online success then turned into the band opening for singer Tori Kelly, which then opened the doors for the trio to accompany Chance the Rapper on his Be Encouraged Tour.
However now Thirdstory is on a tour of their own and is making a name for themselves as a powerhouse trio with a harmoniously unforgettable presence.
Their San Diego show began with Irish singer RuthAnne opening. Most of the crowd didn't know of her name, but after her set, she left with hundreds of new fans.
There was a rhythmic wave of head-bobbing and "YAS's" as The House of Blues crowd quickly learned her lyrics and began humming to her original songs.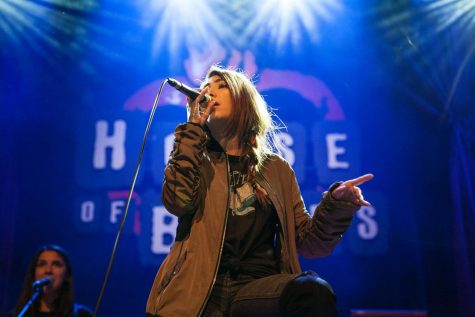 In her song "Unrequited," she expressed aspects of her personal life that contributed to the melody.
"I have this pattern where I like them or they don't like me, or they like me and I don't like them," she said.
And just as the crowd felt the booming bass through their chests, they felt her lyrics even stronger.
She spoke about a popular saying in Ireland, "it is what it is." RuthAnne told about a time when she was "involved" with another person and their attitude was very much "it is what it is," but that eventually began to wear her down.
"The truth is when someone is inside I mean involved with you, someone is going to catch feelings," she told the audience jokingly. "I wrote this song because I deserve better."
RuthAnne's San Diego stop timed perfectly with the release of her first single "The Vow" that she included in her set.
The Irish opener left the stage in a near perfect way — amping up the audience with sweet melodious tunes and buzzing ears wanting more.
Minutes later the lights dimmed and the trio of young men took the stage. Immediately they jumped into the tunes on their newly released album "Cold Heart" with the song "Heart Hit the Ceiling."
Serving as one of the more upbeat songs on the album, this song immediately got the crowd going. However that excitement was quickly overmatched when the first note of the second song, "Grows Old," played. Immediately the crowd vivaciously responded to the trio's elongated harmonies.
Psychology sophomore Najee Rice and psychology junior Xala Glover Pamittan were at the Thirdstory performance.
"I saw their covers, then they put out an album, and now we're here," Rice said.
Pamittan said Rice got her listening to the group, and ever since she has been listening to them nonstop.
"(I've been) bumping it in the AS office, it's a great time," Pamittan said.
Among the harmonious melodies from band members Ben Lusher, Richard Saunders and Elliott Skinner was equally harmonious head shaking and finger snapping from the ever attentive audience.
Saunders introduced one of the group's more popular songs, "G Train," by telling the hidden inspiration in the lyrics.
"There's always a point after the first few dates where you think to keep it going," he said. "Let's get this going, or I'm gone."
The audience sang along with the choruses.
"I've been losing patience / Your mind is always changing / Back and forth, I'm waiting (get going or I'm gone forever)."
And while "G Train" got everyone moving, the band quickly transitioned to a solemn tone with "I'm Coming Round."
"We've been playing sad stuff, but this is like, really sad," Lusher said. "Hope you enjoy it!" he chimed chipperly after.
Thirdstory was able to create laughter and then effortlessly create a universal attentiveness with, as Lusher said, one of their saddest songs — this is what makes Thirdstory stand out.
"When we first started we weren't really sure what we were," Lusher said to the crowd. "We're like three really different people, musicians and artists."
By wardrobe appearance alone, each member of Thirdstory is visibly different with each of their own notable styles. Often taking much of the stand out vocals, Saunders' perfectly matched pitch was adorned by his pinned up, proper style. Lusher on the other hand, with his pulled back hair and loose button down shirt, seems to elongate his vocals, often trailing off and becoming lost in the moment. And Elliot, reguarily flashing guitar solos and vocal belts that caused gasps from the packs of female fans, wore a basic hoodie.
Three different wardrobes. Three different voices. One powerhouse performance.
"It hits to why we're still a band and why we still do music," Elliot said while becoming emotional. "Music is about bringing people together."
What's special about Thirdstory is how the seemingly unknown band brought out crowds of fans. Fans of all ages genders and backgrounds. And as different as each body was in The House of Blues, there was a mutual understanding and respect for the unique sound and utter brilliance of Thirdstory.
This, unsurprisingly, resulted in a three song encore with them playing both acoustic and produced versions of their original song "Still in Love," in addition to doing one of their first Youtube covers of San Smith's "I Know I'm Not the Only One."
With that, the concert ended full circle. What started as Youtube covers led Thirdstory to accompany acclaimed artists, which then lead to a headliend tour that stopped in San Diego. It only seems fitting that this will then lead into something far bigger, with even more success.