"Get involved" is a statement students constantly hear upon starting college, and the words have become a broken record for many. Interdisciplinary studies junior Thulani Kachingwe took the tunes of that record and made music of his own.
Kachingwe was born in DeKalb, Illinois but moved to La Crescenta, California at an early age. Throughout these changes, music remained a constant, something he was exposed to his entire life.
"My dad sang in his choir when he was younger in his church and then my sister got into music really early in her age, too," he said.
It was not until later in high school that Kachingwe's musical creativity evolved from an after-school hobby to dedicated production. Using the name Quiet Child for his music, his first track "Ghoul" was released on SoundCloud in 2013.
"I wanted to do something more creative, because I felt that I had a creative side to me, a talented side of me," he said.
Kachingwe's work focuses on music production, the composition of a song and its various elements. He is very much rooted in pop music. Growing up, he listened to artists like Michael Jackson, NSYNC and Britney Spears.
His music, which is available for streaming on SoundCloud, reflects those Pop elements while also incorporating hip hop and R&B.
"As I got older, I really loved hip hop and I think that's where a lot of my creation comes from, and inspiration comes from," he said.
Kachingwe said Childish Gambino and Kid Cudi's music resonates with him because he can relate to the topics and issues they put within their music.
Upon entering San Diego State, Kachingwe brought with him a hunger to continue his musical efforts.
During his first year at SDSU, he joined Aztec Music Group, a campus organization that seeks to introduce students interested in the music industry. He currently serves as the group's president.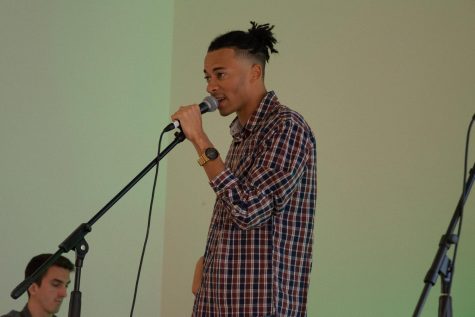 Kachingwe said he anticipated a career working directly with labels and artists, however through his involvement on campus, he learned about the various possibilities in the music business.
In May of 2017, Kachingwe began his job as a programming assistant for the Aztec Student Union Board, a commission within AS Campus Life Council. Working with AS on their events showed him a different aspect of entertainment, yielding him to consider event programming.
Rather than focusing all of his energy on becoming a musician—a feat with its own uphill battle—he believes event programming is where he can find stability. According to him, music events will remain a vital part of music culture, meaning opportunities to immerse himself in the industry.  
"Music shows and live music will always be around, and will always need (event planning) and so not only will that be a stable environment, but I also really love the aspect of live music and being a part of planning an event," he said.
Although Kachingwe aspires to work in music events, he still continues to produce.
On March 20 "Midnight EP" dropped on SoundCloud. This four song collaboration features Kachingwe with Natey Z and serves as a taste of what's to come in their first album, which they anticipate releasing this summer.
Kachingwe still finds joy in creating music and will carry on with his creative work while he plans for his next move.
"Maybe I'll become an artist, but who knows," he said.