Thousands of people poured into downtown San Diego to show their support for student activists marching for stronger gun control laws as part of the nationwide March for Our Lives.
The event, which was organized by student activists with the help of Women's March San Diego, began at Waterfront Park before protesters headed through the streets of downtown San Diego.
The march was led by teenagers and young adults who say they've had enough of gun violence and want to see changes in laws from politicians in the wake of the Feb. 14 shooting at Marjory Stoneman Douglas High School in Parkland, Fla., where 17 people died.
"Something needs to be done about the shootings that are going on," Lincoln High School senior Hector Enriquez, one of the student speakers, said after his speech.

The event came on the heels of the National Walkout Day, an event in which high school and college students around the nation walked out of their classes to protest gun violence.
At San Diego State, the event was organized by student Jack Dentzman and members of the local advocacy group San Diegans for Gun Violence Prevention, to commemorate the lives lost during the Florida high school shooting.
Enriquez, who was recently accepted to UC San Diego, said he's no stranger to gun violence.
"Some of my uncles, they've actually been shot," Enriquez said. "Laws need to be set forth to ban people from getting their hands on weapons that will cause a lot of destruction."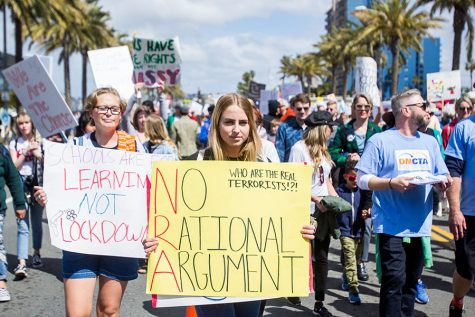 California currently has some of the strictest gun control laws in the nation, banning most sales of assault weapons and requiring permits to carry other gun types.
High Tech High School freshman Gigi Butterfield, who marched alongside her friends, expressed her thoughts on the new wave of activism she and her peers were suddenly thrust into.
"Quite frankly, I find it ridiculous we have to march at all," Butterfield said. "But I think if anyone is going to make a change it's going to be the students and this responsibility has fallen on us and we have to make it happen."
School officials at Butterfield's high school recently found threatening graffiti scribbled inside of a girl's restroom on-campus, prompting them to heighten security at the school and launch an investigation according to an official statement from the school.  
Parker Frost, also a freshman at High Tech High, agreed with Butterfield and says they shouldn't have to feel unsafe at school.
"The fact that this is even an issue and that people aren't willing to do something about it, who are in power, is just enraging," Frost said.
Both teens say their parents have given them advice in case a shooting were to happen in their school.
Elizabeth Walcott, an adjunct professor at the University of San Diego who was at the march, said it's a conversation she has had with her own teenage daughter. 
"I tell (my daughter) to use common sense," she said. "But I also don't want her to live in a constant state of fear and anxiety. It's sort of a delicate balance."
As a professor, Walcott has considered the possibility of a threat occurring on her campus, but disagrees with President Donald Trump's suggestion on arming teachers in the classrooms.
"Absolutely not, classrooms are for learning, they're not a place where guns belong," Walcott said.
Across the nation marches were held, the main one taking place in Washington D.C. where student activist Emma Gonzalez, one of the Marjory Stoneman Douglas High School shooting survivors, delivered an impactful speech where she commemorated her fallen classmates.
With midterm elections fast approaching, activists are vigorously reminding people that their best chance for pushing for gun reform is by registering to vote and going to the polls.