SoulMUCH combats food waste, one cookie at a time
After incessant nights of watching the True Food Kitchen staff throw out bins of untouched brown rice and quinoa, food science and nutrition senior Reyanne Mustafa couldn't take it any longer. She lugged the almost 20 pounds of grains home with her one night without a clue as to what she would do with it or what this action would lead to.
SoulMUCH, the protein packed upcycled cookies, was the brainchild of Mustafa and environmental science senior Krissy Krugman. The sustainable business had a long journey to endure before getting to where it is now.
When Mustafa took home the bin of grains, she attempted to individually package them in foil to distribute to homeless people on 17th Street. She quickly learned this method was far too inefficient — she dropped the project, turning a blind eye to the issue.
The "aha" moment was about a year later when Mustafa was at Sprouts Farmers Market. Being a nutrition major, she frequently ponders the nutrition labels and was surprised to see the first ingredient in many protein powders was dehydrated brown rice and quinoa — the very ingredient they threw out every night.
And thus, the project was back in action.
Mustafa applied for the Zahn Innovation Platform Launchpad in January of 2017, inviting Krugman to be a co-founder, with the intention of bridging the gap between food waste and food insecurity.
At first, the two wanted to continue their efforts through a nonprofit, however, they learned it was not as easy as they thought.
"Through the support and mentorship of the ZIP launchpad we kind of realized there's a lot of work that goes into non-profits," Krugman said.
Likewise, Mustafa dealt with placing the whole issue of food insecurity and food waste on her shoulders.
"How are we going to feed the world when we are wasting 40 percent of the food that we produce?" she said. "'We want to help food waste and then give it to the homeless, do this and do that — We need to step back and in order to tackle an issue you have to tackle it one by one."
A for-profit business, where they sell nutritionally dense food made from the repurposed grains, is ultimately what they decided to pursue. Through extensive market research they learned people wanted a snack that was on-the-go — a cookie.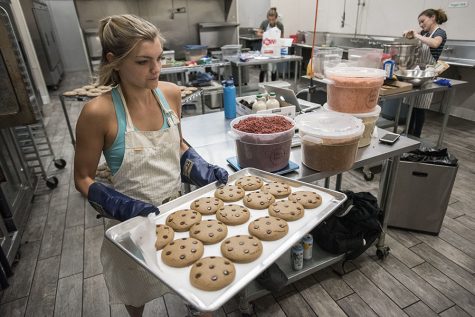 In June 2017, the entrepreneurs entered and won the Commission for Environmental Cooperation Youth Innovation Challenge for their "Restaurant Waste to Superfood" idea. Out of hundreds of applications, they were chosen to represent the U.S. in the North American Conference.
For some time, SoulMUCH was just Mustafa and Krugman, until Krugman met sustainability seniors Grace Groccia and Dakota Ruiz in a class. The group clicked so well, Ruiz and Groccia soon joined the team for social media and outreach.
Groccia was ecstatic to see like-minded people working toward helping the Earth.
"We're a great team, we've been doing well together so I'm excited to see what the future has," she said.
In November 2017, after nine months of research and evaluating, SoulMUCH entered the market as vendors at the Ocean Beach Farmers Market. Today, SoulMUCH cookies can be found in three San Diego farmers markets: Ocean Beach on Wednesdays, North Park on Thursdays and Little Italy on Saturdays.
They currently partner with True Food Kitchen, Eve Encinitas and Trilogy Sanctuary to collect excess grain and Oh! Juice and Vida Kombucha to collect the juice pulp that's used in their carrot cake and red velvet cookies. Those items, and their original chocolate chip cookie, are sold for $3 each.
They plan to reveal their newest flavor, java chip, when they sell as vendors at Balboa Park on Earth Day.
Now that the co-founders are on their way to graduate and leave the San Diego State campus, they are eager to branch out and expand their business. They do, however, want to take things one step at a time and keep a grassroots mentality.
"(Selling at farmers markets) gives us this face-to-face contact we really need to see what people think about our product," Krugman said. "If we just had it on a shelf somewhere, the likelihood someone would give us immediate feedback, or their input would be much more disconnected."
With their undergraduate career ending and endless possibilities for SoulMUCH, Mustafa and Krugman are grateful for the opportunities the ZIP Launchpad provided them and the feedback from the community.
"It gives us encouragement to keep going," Mustafa said. "I feel so honored to be able to be in the frontier of that movement, to be one of the people leading that way. I couldn't ask for anything greater than that."