Neon signs shining light for new generation
Words buzzing on the walls of local restaurants with the soft glow of neon gas have been popping up around San Diego, drawing in customers who swarm in to take photos for their Instagram accounts.
Witty sayings such as "It's not gonna lick itself" in the form of the neon-style, LED sign at Cauldron Ice Cream may hint at a dirty sense of humor, whereas the "You, me, matcha" sign at Holy Matcha in North Park skips the use of double entendre.
The phrase "In pie we crust" — a play on the United States' motto — is trademarked by Pop Pie Co. and prominently displayed in the restaurant as glowing, white neon sign. The decision to include the sign in the store was as a piece of art and a way to incorporate the company's branding into the store design, according to General Manager Steven Torres.
"We just like the aesthetic of it and it's a quote that's part of our branding — it's part of who we are," Torres said. "It's definitely an attention grabber and people like to take photos of it."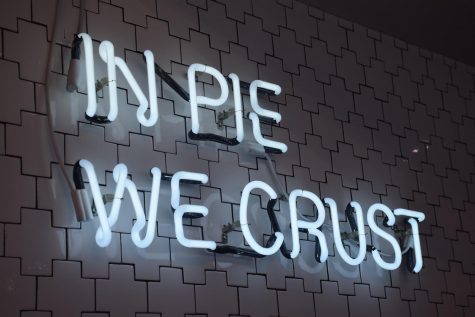 From coffee and tea shops to ice cream parlors and bars, the types of businesses may vary, but the millennial customer base is common regardless of the space.
Instagram user Olivia Stevens has taken photos of several neon signs, and has her own "San Diego" sign at home. She said that people are drawn to various businesses to take photos with and of the signs.
"It's kind of like an old school aesthetic that's making a comeback, really," Stevens said. "I know that at the Cauldron ice cream shop in Kearny Mesa, people are literally going to that shop just to take a picture with that neon sign."
Mr. Neon Inc. — a local sign contractor — produces about 200 to 300 neon signs each year. The use of neon lighting in channel letter signs has decreased as LED lighting has become more mainstream, Mr. Neon salesperson Ben Gottsponer said.
"A lot of the (neighborhoods) in San Diego have restrictions on neon, so it has kind of made us go more toward LED," Gottsponer said. "Some of the neighborhoods just don't like neon — a lot of the shopping centers want LED channel letter signs."
Though the use of neon in store front signs has declined, there has been a resurgence in the use of neon for interior, decorative pieces.
"We still do quite a bit of neon for specialty signs," Gottsponer said. "A lot of the stuff we do is inside stores, interior neon — that's 'in vogue' again, luckily. I enjoy doing those and they look beautiful."
Neon's longevity is one of the aspects of the art form that resonates with those who purchase and appreciate such signs.
"Neon pretty much lasts forever because neon is gas," Gottsponer said. "Inside the glass tube is gas and there's no filament, so as long as the transformer lasts the neon lasts. We've repaired neon signs from the 60s and the same tubes are still being used."
With a long history of usage as a lighting and sign form that spans more than a century, the signs were popular early in the 20th century and made a comeback in the 80s, said Eric Lynxwiler, Museum of Neon Art board member and neon art historian.
"Everything old is new again and neon itself has had a cyclical lifespan," Lynxwiler said. "It was popular between 1925 and 1965, and after 1965 it was essentially replaced by backlit plastic."
Older neon signs can be found on display at the MONA in Glendale, CA, where staff work to save neon signs from being thrown away when older, "mom and pop" businesses close their doors, Lynxwiler said.
A 40-foot, animated, neon dragon from the Grauman's Chinese Theatre in Hollywood is currently on display at the museum. Other exhibits include "Motel California" — an exhibit filled with refurbished neon, motel signs.
The uptrend of true neon signs can be seen in the increased workload of neon restoration craftspeople.
"Nowadays we see such a rise of neon that when we at the Museum of Neon Art need to upgrade a neon sign or restore a neon sign, our benders are busy with other projects because neon is so popular right now," Lynxwiler said.
Retro art nostalgia drawing in young crowds who enjoy the style of art may be one reason why businesses are gravitating toward incorporating the signs into their interior design plans.
"I think that the current generation of folks are finding neon to be 'retro-cool,' and also, it's just new to them," Lynxwiler said. "I remember neon from my youth and I loved it and enjoyed it, and it's kind of why I am addicted to neon now. I think the current generation looks at neon with new, bright eyes, and they don't see an old technology, they just see a beautiful thing."