Pair of College Area robberies results in increased police presence, SDSU police chief says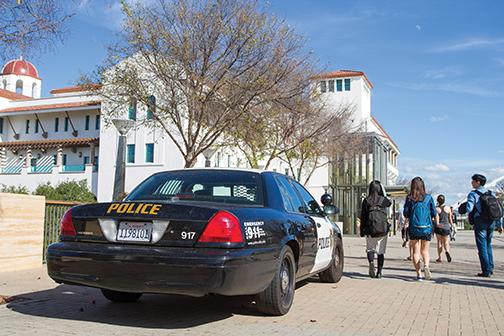 San Diego State police will work with other nearby agencies to better protect areas near campus after two robberies took place in the College Area in a three-day span, the university's police chief said in an email Tuesday.
"In response to recent incidents, some suspects have been identified, detectives are following up on leads, and we are working with allied police agencies to provide an increased police presence in areas of concern — both on and off campus," SDSU Police Chief Josh Mays said in the email.
The first robbery occurred on Aug. 24 around 12:22 a.m. on the 5600 block of Mary Lane Drive and Dorothy Drive, according to a campus-wide email sent by Associate Vice President of Administration Jessica Rentto.
The email said numerous male suspects stole three cell phones and a pair of keys by force from a group of three San Diego State students, one of which was sent to the hospital as a result of the crime.
The most recent incident occurred on Aug. 27 around 6:42 p.m. at the intersection of Lindo Paseo and College Avenue and involved two suspects, according to an email sent by university police. The victim was reportedly pushed by one of the suspects while walking on the sidewalk and robbed of their cell phone.
The email sent in accordance with the Aug. 24 crime said the suspects were tall, thin men in their 20s and wearing hooded sweatshirts.
The victims of the following incident on Aug. 27 described the first suspect as thin, about 6-foot-2-inches tall and dressed in black jogging pants and a black hooded sweatshirt. The second suspect was described as being about 5-feet-7-inches tall and dressed in grey jogging pants and a black hooded sweatshirt.
Police didn't say if they believe the two robberies were related.
Mays' email said university police and the San Diego Police Department were working collaboratively on investigating these crimes. Officers asked anyone with information on the incidents to call San Diego police at (619) 531-2000, or to contact university police at (619) 594-1991 or by email at police@sdsu.edu.