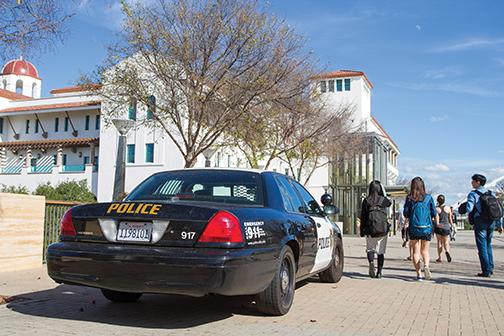 Police were searching for a suspect in another robbery in the College Area Saturday morning.
It's the third robbery to take place near San Diego State's campus in recent weeks.
The latest incident was reported shortly after 11 a.m. in the 5000 block of 63rd Street, according to San Diego police Officer Steve Bourasa.

The suspect reportedly stole a purse, and had a knife at the time of the theft.
Officers set up a perimeter and searched for the suspect, who was described as a black man in his early 20s, 5-feet-9-inches tall and wearing a light-colored shirt and black shorts, Bourasa said.
Officers were not able to locate the man, and cleared the scene around noon.

Two similar robberies took place near SDSU's campus about two weeks ago.
On Aug. 27, two suspects reportedly pushed a victim and stole a cell phone near the intersection of Lindo Paseo and College Avenue, adjacent to the South Campus Plaza dorm halls.
San Diego State police sent out a warning bulletin via email alerting students to that incident.
The first robbery happened not long after midnight on Aug. 24 near Mary Lane Drive and Dorothy Drive, a few hundred feet south of the University Towers dorm hall. Multiple men were believed to have stolen three cell phones and a set of keys from a group of SDSU students, according to an email sent out by Associate Vice President of Administration Jessica Rentto.

Police didn't say if they believe any of the three incidents are connected.
Editor in Chief Will Fritz contributed to this report.