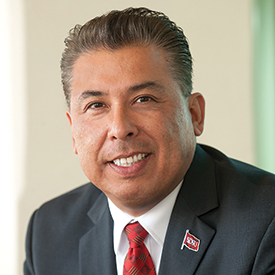 After nearly a quarter-century serving the California State University system, Vice President for Student Affairs Eric Rivera will retire at the end of the fall semester, university officials announced on Sept. 5.
"As I look back at my higher education career, spanning four institutions across the country, I am most proud of the past 22 years spent at SDSU and the contributions I have made to our students' achievements," Rivera said in a statement.
San Diego State President Adela de la Torre said Rivera has made notable achievements in areas like the increase of graduation and retention rates, the expansion of student support centers and in his development of parent programs on campus.
Beginning Dec. 13, de la Torre said current Associate Vice President for Student Affairs Christy Samarkos will serve as the interim vice president for student affairs until a permanent one is selected through a nationwide search.
Students may not know Rivera's name, but they're sure to be familiar with his work. Popular student support centers such as the Commuter Resource Center, the Pride Center, Women's Resource Center, Black Resource Center and the Undocumented Resource Area all can be tied back to Rivera, according to de la Torre.
Looking beyond just the students, de la Torre said Rivera made notable strides in programming for the parents of Aztecs. The Aztec Parents Association, previously sitting at about 700 members, grew up to 20,000 members and increased funding six-fold under his watch.
De la Torre continued to highlight Rivera's success in supporting students in their academic pursuits.
"These efforts contributed to raising retention and graduation rates for all students while nearly eliminating achievement gaps among ethnic and racial groups," de la Torre said.
In a statement, Rivera said he plans to move back to the East Coast to focus on his family.
"There's something happening here that's really special," Rivera said. "And I will miss collaborating with our students, faculty, staff, parents and alumni on a daily basis. However, as our parents are getting older, I am at a time when my time and energy need to be focused on family. While I am an Aztec for Life, I am moving back to the East Coast to be with them."
De la Torre said Rivera's final day will be Dec. 13, with a special event currently being planned in his honor.
"I look forward to seeing the university continue on its upward trajectory, and will forever support SDSU and our students as a member of our coast-to-coast Aztec family," Rivera said.