Deja Harris sets, re-sets, career high in "kills" in back-to-back games on same day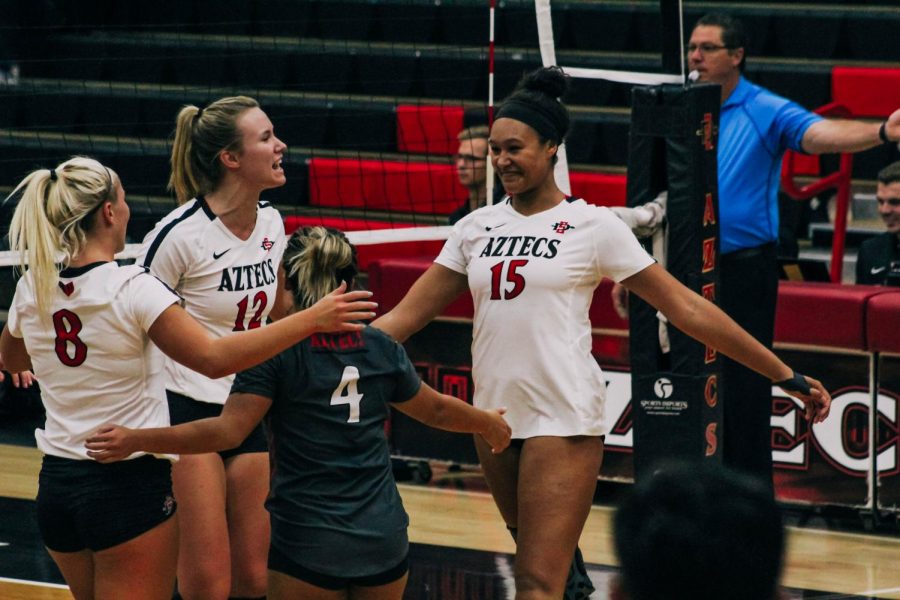 San Diego State volleyball is 1-11 on the season and in the midst of a 10 game losing streak, but while the schedule has often been unforgiving, senior middle blocker Deja Harris has stood out as the face of the Aztecs.
Harris is the team's lone senior, and she took her game to new heights on Sept. 15 by posting a career-high number of kills in consecutive games, on the same day, just hours apart.
"I'm actually very excited," Harris said. "It's encouraging just to know that regardless of outcome, I'm still keeping my game up high and I still hold myself to a high level and high expectations and high standard."
Harris initially had a then-career-high 20 kills in a five-set loss against University of Texas at El Paso, only to shatter that hours later by setting a new career high of 26 kills in a five-set loss to University of Louisiana at Lafayette.
The 26 total kills were the most by an SDSU player since 2008, when Lauren Salisbury finished with 28 in a match against UTEP.
Harris said she could not have accomplished the feat without quality passing from her teammates.
"Obviously in order for me to even break that record I had to have great passing, and our passing did a phenomenal job," she said. "It's really up to my passers, it starts with them."
Harris leads the team in kills on the season with 166, while also leading the team in blocks with 66. The next closest players in blocks, junior outside hitter Ashlynn Dunbar and redshirt sophomore outside hitter Lexie Hamrick, have 22.
Head coach Deitre Collins-Parker said that while Harris is invaluable, it is up to her teammates to make up for her lost output when she exits the game for a breather.
"(Harris is) important to us. She's an important piece of who we are," Collins-Parker said. "We have to match that (production) when she is out."
One area of difficulty for the Aztecs once Harris leaves the court is the team's general youth and inexperience.  SDSU has a combined 14 freshman and sophomores on the team, and has struggled in crunch time, losing four times in five-set matches this season.
Harris said being the only senior on a young team comes with some pressure, but that it's nothing she can't handle.
"I've been signed up for this, and I'm ready for it, and it's never been something I can't handle, it's never been overwhelming, it comes naturally," Harris said. "Being the leader, being the spokesperson, being the vocal (one), being the one that gets it done, the 26 kills. They can depend on me and that's fine, give me the ball. I'll put it away, I'll handle it."
Harris will have a chance to help her team win its first game since Aug. 25, when it opens conference play with a home match against Fresno State on Sept. 21 at Peterson Gym.