Volleyball ends 13-game losing skid with five-set victory over Wyoming
San Diego State volleyball snapped a 13-game losing streak with a conference win against the University of Wyoming on Saturday evening at Peterson Gym.
The Aztecs fought back from down two sets to one to force a winner-take-all fifth set, which the team narrowly won 15-13.
SDSU senior middle blocker Deja Harris secured the game-winning point on a successful block attempt, after which the team stormed the court in celebration.  
Junior outside hitter Delaney Taylor said the Aztecs celebrated how hard they worked to finally end their losing streak.
"After going through hard times, the victory of winning will be so much sweeter than the feeling of losing, and that's really what I felt," Taylor said. "We were celebrating like we won the championship."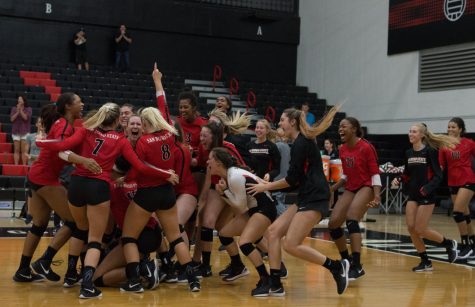 SDSU junior outside hitter Ashlynn Dunbar contributed big for the Aztecs, setting a new career high with 23 kills.
Dunbar became the first Aztec since SDSU joined the Mountain West Conference in 2001 to have 20 kills and 20 digs in the same match.
SDSU head coach Deitre Collins-Parker said that despite playing with a hurt back, Dunbar was able to come up big.
"She was unbelievable," Collins-Parker said. "What she played through today was amazing. This is what we knew she could do."
Dunbar said she gives credit to her teammates who put her in a position to contribute to her team.
"I can't do anything without (my team)," Dunbar said. "I'm so proud of them. I trusted everyone on the court and I knew that they had my back and I had theirs."
Collins-Parker said the Aztecs (2-14) haven't been able to bounce back from set defeats all season, but Saturday was a different story.
"Early in the season, after we started to get a little discouraged, once we lost a game, we didn't rebound," Collins-Parker said. "They continue to believe, continue to work and a five-game match is expected, so now we're glad we won this."
Wyoming (10-6) came into the season selected to finish second in the Mountain West Preseason Poll.
Dunbar said a victory against a team of Wyoming's caliber bodes well for SDSU's confidence moving forward.
"We knew it was going to be a tough game. That just sets the tone for the rest of the season," she said. "We know if we keep playing like that, we're going to come out on top."
SDSU defeated the Cowgirls in the first set 25-20, but were not able to ride the positive momentum into the second set as they lost by the same score.
The third set was a back-and-forth roller coaster. SDSU was down as much as five points, 13-8. The Aztecs fought back to tie the Cowgirls 17-17, then 23-23. Wyoming capitalized in the end to win 25-23.
The Aztecs fought back in the fourth set to win 25-21 and force the winner-take-all.