Unauthorized guests cause security issues in residence halls
Security risks at two campus residence halls have caused residential education staff to take action against the threat of unauthorized guests.
Two non-residents had gained access to Tenochca and South Campus Plaza North residence halls in early September, according to a Sept. 12 email to residents. Residence hall staff were informed of the situations by reports from students.
"After becoming aware and reviewing our camera footage, we found that some of our students, who were being courteous, opened the door for and allowed these individuals into the residence halls," Director of Residential Education Administration Kara Bauer said in an email to residents.
University police and the residence hall staff were able to locate the unidentified individuals and remove them from the buildings. There were no reports of injuries, damages to property or stolen possessions.
Staff said they encourage students to continue to report any suspicious activity and follow safety measures established for all residence hall communities.
"Do not allow people into the residential community if you do not know them," Bauer said in an email to residents. "If an unfamiliar person requests access, attempts to tailgate behind you or is seen in the community, please be sure to immediately notify a staff member or university police."
While similar incidents may have occurred in the past, the recent incidents sparked concern due to their close time to one another.
In an attempt to heighten security, the South Campus Plaza North residence hall administration has created a new system to ensure all those who enter the building get their Red IDs checked. As opposed to having front desk attendants check Red IDs, the building has added an additional security desk that serves the specific purpose of checking student Red IDs.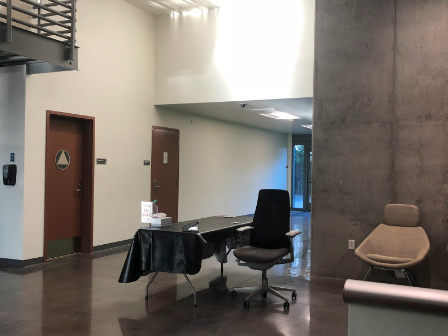 South Campus Plaza resident advisor Joanna Younes said the new check-in system is the best option for making the building safer.
"It's a good last-minute setup because of situations that had happened," Younes said.
Business administration freshman and South Campus Plaza North resident Venny Liu said the new security monitor makes checking Red IDs a simpler process.
"The new system doubles the security and does not inconvenience residents," Liu said. "It makes things easier in regards to seeing who enters the building."
All Red IDs have a colored sticker that is specific to each resident building that easily allows the residential staff to distinguish if a student is a resident. However, Younes said the front desk attendants, who deal with duties such as checking in or out guest students, assisting with borrowed items, sorting packages and answering phone calls might sometimes be too distracted to correctly monitor who is coming into the buildings.
Security monitors are now being established at South Campus Plaza South as well as other Freshman residence halls which will become a permanent system. However, temporary tables are currently in place that are planned to be replaced by podiums.
Freshman international business Amy Nakayama, who also lives in South Campus Plaza said resident halls should prioritize safety so students are able to feel comfortable living there.
"An increase in safety is always a good thing when it comes to where students live," Nakayama said.