Meningitis vaccination clinics take over Viejas Arena after campus outbreak
More stories from Ronald Penh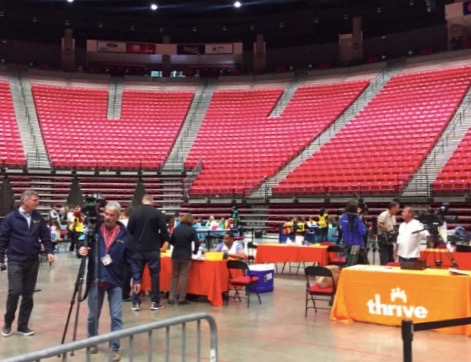 A week after a meningitis outbreak was declared at San Diego State, the university partnered with San Diego Public County Health Services to hold the two meningitis B vaccination clinics at Viejas Arena on Oct. 5 and 8.
Numerous medical providers, such as Walgreens, Kaiser Permanente and the County of San Diego were present to distribute vaccines depending on students' health coverage.
"We want to have something for all students 23 and younger," said Student Health Services Medical Director Dr. Cynthia Cornelius.
While many students believe they have already been vaccinated, Cornelius said this is normally not the case. She said a lot of the confusion surrounds the fact that the university does not require the meningitis vaccine for attendance at SDSU.
"Most students that received a meningitis vaccine did not receive the meningitis B vaccine," Cornelius said. "Meningitis B is not as commonly administered as the conjugate vaccine which protects against different groups of meningococcus."
She said students aged 24 and higher are not considered to be a high-risk group. However, students who are ages 23 or under should seriously consider getting vaccinated.
"If you look at meningitis outbreaks on college campuses, no cases (are) above the age of 23," Cornelius said.
Typically, students who live in on-campus residence halls are at the highest risk when it comes to meningitis outbreaks. However, considering the first reported case came from a student who lived off campus, efforts to vaccinate students have extended to those who live off campus as well.
Marketing sophomore Sophie Scheiner said the party culture at SDSU is what concerns her the most when considering the spread of meningitis on campus.
"It just freaks me out, especially with parties and stuff," Scheiner said. "I feel like people don't even know (how easily it spreads), and people are sharing drinks all the time."
After receiving her vaccination, she said she felt much more at ease.
Kinesiology junior Erika Pulliam said the outbreak was of no concern to her, as somebody who had been vaccinated in the past.
"I know it's common like across college campuses just because of close contact and (that) it's very contagious but I don't feel too worried about it because I got my vaccination," Pulliam said.
She also said efforts made by the university to keep students in the loop about the outbreak have been comforting.
"They're sending out the emails so we know how to prevent from getting it," Pulliam said.
For students who are were not able to attend the clinics or who would prefer to pay out of pocket, Student Health Services provides vaccinations costing between $120 and $145 per dose. The County of San Diego also provides vaccinations at clinics around the city at no cost to those who qualify.