The fraternity recruitment process, explained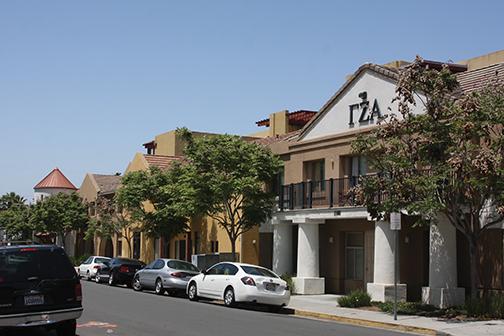 Fraternity recruitment is held the first week of fall and spring semester every year, giving students the chance to become part of one of the 15 Greek organizations on campus.
Recruitment begins with fraternities tabling four hours a day, four consecutive days on campus. During this time, students are able to meet members of fraternities and receive informational flyers with dates encouraging them to attend scheduled rush events that are held the following week.
The day after tabling ends, a formal banquet is held in Montezuma Hall by the Interfraternity Council. This event gives each fraternity the opportunity to play their rush video for potential new members. Rush videos are meant to portray the fraternities' values and give prospecting students a better idea of what life is like as a member inside each fraternity.
Following the IFC banquet, recruitment is held over an eight-day period where fraternities host multiple rush events. Each rush event has different themes that allow students to meet active members in different environments and to better understand the fraternity's values.
Bid day is then held at Scripps Cottage after recruitment week ends. Students are able to accept bids they have received from a fraternity during this time and begin their process pledging or becoming a member of a fraternity.
"The pledging process is about getting new members adjusted to campus since most are generally freshman or third-year transfer students," IFC President Jacob Mahony said. "The time spent pledging is meant to be spent learning the frat's history, values and going through new member education with the university. This includes getting trained about alcohol use, drugs and bystander intervention."
There is no cost for students to go through the IFC fraternity recruitment process.
Mahony said the social moratorium that was in effect while recruitment was happening had no real impact on the recruitment process for fraternities.
All recruitment events, flyers, promotional videos and other recruitment materials are subjected to approval by the IFC Recruitment Director and IFC advisor before being used, according to the IFC Constitution and Bylaws. Alcohol is banned from all official IFC recruitment events. Women are also not permitted at the events.
Chris Abbott is a first year biology major who rushed this fall 2018 semester, despite saying he hadn't intended on doing it.
"I didn't come here thinking I was going to rush," Abbott said. "Literally everyone I knew was rushing so I figured I might as well. I'm glad I did because I ended up really liking the guys I met and am excited to become a part of a fraternity here."
The only thing Abbott said he wished he could change about the rush process is allowing students to have a better opportunity to visit more fraternities during rush, since many of the events were held on the same day around the same time.
James Robinson, rush chair for Pi Kappa Alpha said around 530 students rushed their fraternity this year, more than previous years.
"A lot of people come to San Diego State with the intent to rush since Greek life is so big here," Robinson said. "Just being yourself and going to as many houses as possible when rushing will help you find the right house."