Rising pop vocalist Kim Petras to perform at SDSU with Troye Sivan
Troye Sivan is one of 2018's biggest breakout pop stars with the release of his second album, "Bloom," and for the tour in support of the record, he's enlisted German recording artist Kim Petras as the opening act, a conceptualist pop sensation on the rise herself.
After spending her teen years writing songs and using GarageBand to record her first demos, Petras relocated to Los Angeles to fully focus on pop. It wasn't until 2017 that she had her breakthrough, when her self-released single "I Don't Want It at All" went viral, topping Spotify's Global Viral Top 50 chart.
Centered around the hook, "I want all my clothes designer / I want someone else to buy them / If I cannot get it right now / I don't want it, I don't want it, I don't want it at all," the song is an ode to a credit card-wielding millennial material girl akin to Regina George of "Mean Girls."
In an interview with The Daily Aztec, Petras said the song is not a reflection of her life at the time of writing it, and she cited iconic brats throughout pop culture, like Veruca Salt in "Willy Wonka and the Chocolate Factory," Audrey Hepburn's role in "Breakfast at Tiffany's" and Marilyn Monroe's turn in "Gentlemen Prefer Blondes," as inspiration for the character.
"I'm all about escapism," she said. "Not everything I do is completely autobiographical. I was writing 'I Don't Want It at All' when I was like, sleeping on a futon. I was not balling in any kind of way … That song just kind of happened from a girl at Sephora at checkout saying, 'Just close your eyes and swipe it, sweetie.' And I was just like, 'That is an amazing lyric.'"
While reclaiming feminine stereotypes in her music, another major goal in Petras's songwriting is making music that people can have fun to.
"The things I sing about are the things that matter in my life," she said. "I really just make music for me and the people that I love and the kind of music that we all want to go out and dance to. It's really that simple, but at the same time the songs mean a lot to me because there's a lot of personal stuff in them."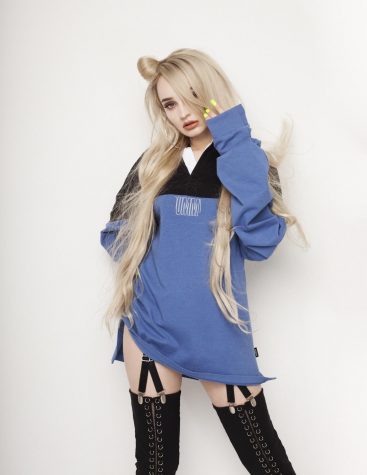 In addition to investing time in music, Petras spent her teens featured in German documentaries highlighting her transgender identity, as she was one of the earliest children to receive hormone therapy covered by German health care. She had fully transitioned by age 16.
Petras has since established a fanbase largely identifying with the LGBTQ community.
"I can find friends anywhere in the world in the LGBT community," she said. "They really started (my career) and built it from the ground up and started the hype about me … I'm always an activist for the LGBT community. I love being with them and I love that they love my music. It means the world."
San Diego State alumnus and Petras fan Matthew Martinez said that, as a member of the LGBTQ community himself, he sees Petras joining the long history of pop stars finding support in queer communities.
"In the gay community, we love our pop queens," he said. "It's cool to see someone who is trans and just living her life. It's normalizing it, which is what the LGBT community is trying to do."
He said he became a fan of Petras when the music video for "I Don't Want It at All," which features Paris Hilton, appeared on his Twitter feed. Petras's rich, impressive voice along with her affinity for irresistible earworms under a sheen of glossy pop production have led him to continue following her.
"(Her music is) very uptempo, very fun and very pop, but different from what other people are doing right now," Martinez said. "The late '90s, early 2000s, that's the stuff that I'm really into. (Her music) kind of reminds me of that, but it's still very new to me."
Petras said the nostalgia element in her music is not intentional, but is ingrained in her songwriting due to her expansive pop culture reference points extending across decades. Single "Hillside Boys" sonically harkens back to Cyndi Lauper's "Girls Just Wanna Have Fun," while Charli XCX's track "Unlock It" featuring Petras evokes bubblegum themes over the forward-thinking production of experimental electronic label PC Music.
Her wide array of influences prove her eclectic sources of inspiration, as well. She cited Madonna, Beyoncé, The Cardigans, The Killers, Sam Smith, Tina Turner and Billy Idol among her most prominent influences.
To support her encyclopedic knowledge of pop, Petras has regularly worked with producer Lukasz Gottwald, known professionally as Dr. Luke, who's responsible for producing a catalog of 21st century pop smashes for artists like Katy Perry, Kelly Clarkson and Kesha. Petras's working relationship with the producer has been subject to criticism, since many artists cut ties with Dr. Luke after Kesha filed a lawsuit against him in 2014 for emotional abuse and sexual assault.
Petras was involved in subsequent controversy when she defended her work with Dr. Luke in several interviews, calling him "amazing" and "supportive" in a New York Times profile,  and telling NME in April, "I would like my fans to know that I wouldn't work with somebody I believe to be an abuser of women, definitely not."
For these reasons, some of Sivan's fans expressed anger on social media after Petras was announced as the opening act on the "Bloom" tour, leading both Sivan and Petras to make statements on the situation.
"I was not aware of some of the comments Kim has made in the past," Sivan said in his statement, shared via Twitter on June 2. "I since have read them and was troubled by them, like you. The opinions communicated in these interviews don't align with my personal values or the values of the tour … I have always said that it's how you grow and learn from your mistakes that truly matters, and I want to treat Kim the same way I'd like to be treated when my inevitable big mess up comes."
Petras apologized for her past comments, but has since continued working with Dr. Luke.
"While I've been open and honest about my positive experience with Dr. Luke, that does not negate or dismiss the experience of others or suggest that multiple perspectives cannot exist at once," she said in her statement, posted on Twitter June 1. "I didn't communicate this clearly in the past."
Since these events have transpired, Petras said she regrets Sivan enduring backlash for her actions.
"I just didn't like involving him into it because he has nothing to do with it," Petras told The Daily Aztec. "It's a complicated situation because it's between two people that I respect a lot, and what's going on between them doesn't really involve me. I'm just focused on making music and going on tour and having fun. I'm just glad that Troye asked me to be on tour with him, and I want that to be the focus of things."
Accounting senior Rachel Hauprich, a Sivan fan who will attend the "Bloom" tour stop in San Diego, said she was not aware of Petras before she was announced as Sivan's opening act, but upon learning of her relationship with Dr. Luke she was not deterred from attending the tour.
"(Sivan's) choice in an opening act isn't an endorsement for everything she's ever thought or said out loud," Hauprich said. "He probably just thought she was a cool artist."
Petras's most recent release, "Turn Off the Light, Vol. 1," a Halloween-themed EP, was produced entirely by Dr. Luke, but marked a foray into darker imagery she had not yet explored in her music.
Hoping to continue to expand her sound and network in the future, Petras said that a collaboration with surrealist electropop producer Sophie is in the works, and that she'd love to work with hip-hop artists like Murda Beatz and Rae Sremmurd.
"I don't ever want to repeat myself," the singer said. "I feel like so many things are pop and can be pop. It's really just limitless, which I think is really freeing and really great about music right now. It's just a blur of genres and something new that happens through that … I always want to evolve and I always want to get better."
Yet to release a full-length project, Petras is performing a collection of singles, including this year's excellent lovesick jam "Heart to Break" and the bouncy shout-along "All the Time," on the "Bloom" tour, as well as songs from "Turn Off the Light."
Calling the tour an "amazing 20-gay-teen moment," using an internet-bred portmanteau referring to the thrive of queer culture in 2018, Petras said it's her first tour of this caliber and she's excited to be a part of it.
"It's going to be so much fun to see both of us on tour together," she said. "I just love playing live. I really can't wait to go all over the country and meet all of my fans and hug them all."
Petras and Sivan will perform at SDSU's Cal Coast Credit Union Open Air Theatre on Oct. 25. It will be Petras's first San Diego show since performing at San Diego Pride in July.