SDSU applicants brace for stiff admissions competition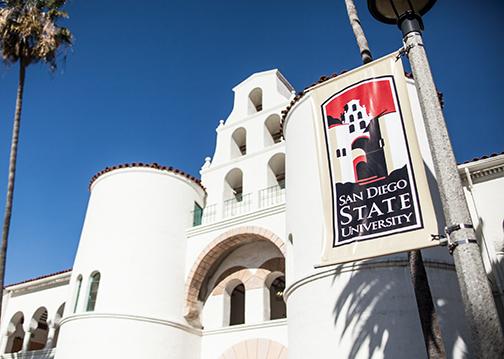 Last year, San Diego State saw the number of incoming applications soar to a record of 93,610. With undergraduate applications having opened Oct. 1, students can expect to face some of the stiffest competition in admissions in the university's history.
This would mark the fifth consecutive year the university has seen an increase in the number of undergraduate applications. Last year was the first time the number of applicants ever exceeded 90,000. On top of this, there has been a 21.4 percent boost in the number of prospective freshmen since fall 2014, according to SDSU Analytical Studies and Institutional Research website.
Last year, the record number of applications was a surprise for the admissions office. Associate Vice President for Enrollment Management Sandra Cook said it is too early to know if this year will see a similar increase in applications.
"I know we have been growing steadily in the number of applications, but (last year) was a bigger jump than usual," Cook said. "We are not going to have enough information until the application period ends on Nov. 30."
Cook said there is the fact the California State University System had changed the application process from previous years could explain the abnormal increase in application numbers.
"I don't know if it is connected, but (the increase in the number of applications) coincided with a new admission application," Cook said. "Before, we had CSU Mentor and now we have a new one called Cal State Apply. It is an updated and better application that takes more advantage of technology. It is just supposed to be easier to use for students."
The number of applications is not the only data that improved over the last six years. SDSU, according to U.S. News & World Report's new rankings of the nation's best colleges, is now ranked number 60. It is the highest rank the university has ever reached, according to a university press release.
Cook said the university getting more recognition in terms of rankings is another consideration to take into account when looking at these unusual numbers.
"San Diego State is seen as a great institution," Cook said. "It has the ranking. It has wonderful faculty that cares about the students. There are many opportunities for students, like study abroad, undergraduate research, internships and leadership positions. SDSU has been on a pathway of getting better and better, and students have noticed that."
Another reason behind the increase of prospective students is the college being more affordable when compared to others, Cook said.
"Students think paying $6000 a year is a lot of money, but the rest of the country spends $20,000 or even $30,000 a year," Cook said. "It is very affordable and if students are not able to pay, there is financial aid that can cover it."
The process to get accepted at SDSU is competitive as GPAs and SAT scores among accepted applicants are higher than those of many universities across the country, including most CSU colleges. On top of this, all majors are impacted, meaning they can accept a limited number of students.
The enrollment target for fall 2019 will be established further along the school year. The admissions office will be able to check how many students are graduating in spring and decide the overall number of students that will be accepted based on that figure.