A.S. Update: ARC expansion update, mental health week, career services events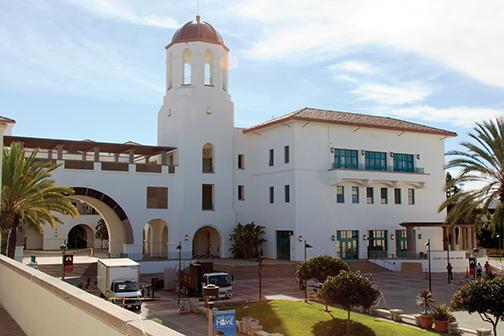 The Associated Students Campus Life Council met on Oct. 17 to discuss the Aztec Recreation Center expansion, preview upcoming campus events and host candidate for California Insurance Commissioner Ricardo Lara.
ARC Expansion Update
The Aztec Recreation Center's Director of Recreation Mark Zakrzewski and Recreation and Wellness Commission Chair George Scott presented renderings and design concepts for the ARC expansion during their presentation to the council.
Zakrzewski stressed the need to maintain normal operations for Viejas Arena events during construction. He said a team of workers will relocate equipment and move the entrance to a temporary location.
"We need the ARC to continue to operate during construction," Zakrzewski said.
The ARC also convened focus groups within the Recreation and Wellness Commission, stressing the importance of student input on plans for gender-neutral restrooms and lockers and improved recreation spaces, such as enhanced rock climbing walls and a wellness suite.
Zakrzewski said the project has underscored the importance of sustainability. The ARC expansion is designed to achieve LEED double platinum status.
Scott said several additions to the ARC have been made possible by the expansion. The ARC will soon see an increase in weight and cardio space from 16,000 to 25,000 square feet, three additional fitness studios and basketball courts, an indoor running track and healthy eateries surrounding the complex.
Aside from physical health and wellness, the ARC expansion will incorporate social and study spaces. Scott conceptualized the space as a second student union for students living in Chapultepec Hall and the future residence halls on the west side of campus.
Zakrzewski said the ARC expansion is set to break ground next summer, and both phases are scheduled to be completed by Fall 2021.
A.S. Executive Director Christina Brown said the expansion of ARC would have a significant impact on student involvement and activity.
"We expect to at least double the (daily) attendance," she said.
Brown said the expanded ARC raised the potential for female-specific spaces, in recognition of religious practices for some SDSU students. She also raised the possibility of additional health and wellness opportunities and collaboration between the ARC and Calpulli Center.
Brown also addressed a proposal by A.S. Executive Vice President Christian Onwuka for an endowment fund designed to assist low-income students or provide student scholarships.
Upcoming Events
Recreation and Wellness chair George Scott said the commission will host Mental Health Week early next semester.
Student Support Commission chair Dustin Adkins and representative Noah Winne announced a collaboration between the commission and Career Services. Winne said they will assist Career Services in marketing a number of events for the month of November.
"It has become apparent that a lot of students need help with résumés and interviews," Adkins said.
Green Love chair Cassie Weinberg and representative Sabrina Sessarego announced the Shiz Swap will be held on Saturday, Oct. 27 at Kate Sessions Park. The event will allow students to swap any unused items in an effort to promote sustainable practices.
A.S. President Chris Thomas also acknowledged Green Love and SDSU for being recognized as a university leader in sustainability practices by the Princeton Review.
Ricardo Lara
Additionally, the Campus Life Council hosted California state senator and candidate for California insurance commissioner Ricardo Lara, an SDSU alumnus and former A.S. executive vice president.
Lara said the construction of Viejas Arena during his time in A.S. is a testament to the power of student government on campus life. Lara also reflected on his background as a first-generation American, California's diversity and the state's economic success as the fifth largest economy in the world.