Alkaline Trio ignite the House of Blues with punk rock
"Not only the sexiest crowd of the tour, but also the best crowd of the tour," Alkaline Trio's guitarist Matt Skiba said to the audience during the band's Oct. 15 show at House of Blues.
The punk trio, made up of Skiba, who is also known for being the newest member of Blink-182, bass player Dan Adriano, and drummer Derek Grant made a stop San Diego for a sold out concert in support of its new album, "Is This Thing Cursed?," which came out in August.
The concert included songs from the new album, as well as an additional line-up of 20 years of hits. The band started the show by dropping a giant backdrop with its name and signature skull in a heart logo, and played two songs from its album "Good Mourning," "We've Had Enough" and "Blue Carolina."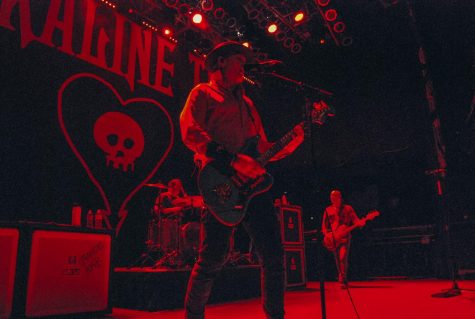 The concert kicked into high gear when the band played the song "Armageddon," which featured Skiba screaming through the stage monitors like a distress call.
For the fourth song, "Blackbird," the lead single from the new album, the band dropped a new backdrop, this time its logo within an old school telephone, reminiscent of the "Is This Thing Cursed?" album cover.
"I love when bands express themselves with background art," environmental science sophomore Hanna Rueter said. "It makes the show more fun and I get to know the band a little better."
On "Blackbird," as well as "Demon and Division" and "Is This Thing Cursed?," all cuts from the new album, the band sounded inspired and in high spirits, with the title track getting the best response out of the crowd.
"Is this thing cursed? / My haunted head aches so much worse / Than those that can't remember / How dismemberment works," Adriano and Skiba harmonized.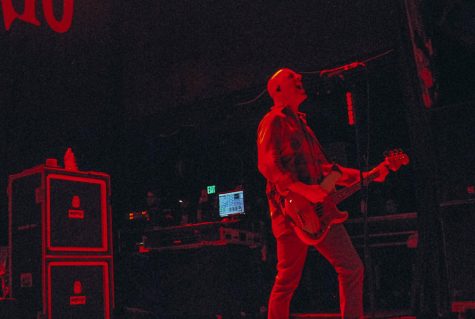 Other highlights included fan favorite "Sadie," when Skiba dedicated "I Wanna Be a Warhol" to a new love and Adriano dedicated "Every Thug Needs a Lady" to opener Los Angeles-based punk band Together Pangea.
The heaviest moment came through the song "Clavicle," where the band exhilarated the audience with big sounds from the two orange amps that Adriano and Skiba both had on their sides of the stage.
The band ended the main set with "This Could Be Love," which only left the fans in attendance hungry for more.
When Alkaline Trio returned for its encore, a fan in the crowd was yelling for the song, "Radio" which the band ended up closing the show with.
The night concluded with Skiba and the entire crowd screaming, "I've got a big fat f—–g bone to pick with you my darling / In case you haven't heard I'm sick and tired of trying / I wish you would take my radio to bathe with you / Plugged in and ready to fall."
It was a cathartic way to conclude a night of pulsing punk rock.