Crime report: Handling turtles, laptop theft, public intoxication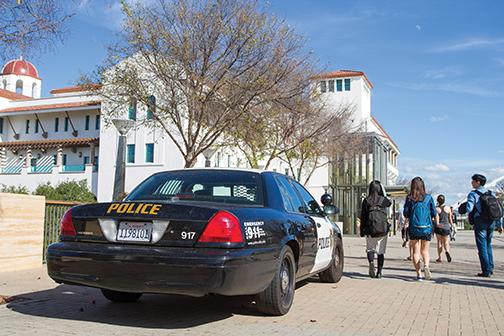 Public Intoxication
A student was reported to police about 1 p.m. on Oct. 23 for rummaging through a backpack in the Love Library while apparently drunk. The student was arrested and taken to San Diego Central Jail on suspicion of public intoxication.
Suspicious Person
A man wearing a Halloween mask and fangs was reported to police for handling the turtles near Scripps Cottage around noon on Oct. 14.
Around 6 p.m. on Oct. 14, a person wearing a skeleton mask was reported for throwing a beer bottle while pacing back and forth near Tepeyac residence hall.
Vandalism
Around 8:30 a.m. on Oct. 10 a transient reportedly broke the fence paneling at the Alpha Phi sorority house. The same person has been previously reported for camping behind the sorority house's garbage cans.
The second floor men's restroom in Adams Humanities was reported to have been vandalized with graffiti around 1 p.m. on Oct. 10.
A car window was reported to have been smashed in parking 2B around midnight the morning of Oct. 22.
Vehicle Tampering/Theft of Parts
An individual told university police around 5:30 p.m. on Oct. 11 that their motorcycle had been moved from their parking spot in Parking 14, re-parked in a new location with the kickstand taken off and left with a note threatening to smash the motorcycle if it was "parked like that again in the future."
Around 11:30 a.m. on Oct. 12, reports were taken of a vehicle parked in Parking 3 with holes punched in the gas tank and gas siphoned.
Vehicle Burglary
Around 1:30 p.m. on Oct. 13, a car parked at Toltec apartments was reportedly damaged, with two surfboards stolen.
Another car was broken into around 6:30 p.m. on Oct. 22 in Parking 1.
Robbery
At about 7 a.m. on Oct. 16, a person was sitting in their car in Parking 17 when a man, accompanied by two women, approached the vehicle's window, shattered it with a brick and stole a backpack.
Theft
At least seven laptops were reported stolen from the Love Library between Oct. 10 and Oct. 22.
A bag was reported stolen around 6:30 p.m. on Oct. 11 from inside an unsecured locker in the men's locker room in the Aztec Recreation Center.
An SDSU student was cited for theft of electronic items valued at $47 from the SDSU Bookstore at 1 p.m. on Oct. 12.
A wallet was reported stolen from a bag in an unsecured locker in the men's locker room at the Aztec Recreation Center around 4:30 p.m. on Oct. 20.
Around 2 p.m. on Oct. 22, a bicycle was reported stolen from Chapultepec residence hall.
Three juveniles were cited for stealing six clothing items from the SDSU Bookstore and then released to their chaperone around 2:45 p.m. on Oct. 22.