SDSU men's basketball is the eighth Jordan-sponsored school in nation, debut jerseys Thursday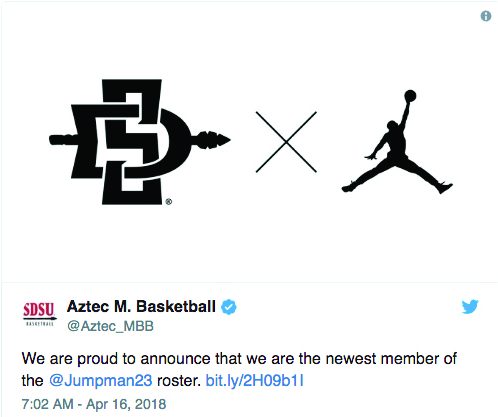 Florida, Georgetown, Houston, Marquette, Michigan, North Carolina, Oklahoma and now San Diego State are part of the exclusive club of schools that are sponsored by the Jordan brand.
There are only eight colleges in the country that get wear the iconic Jordan logo on the right side of their jerseys.
SDSU men's basketball will do just that to begin its 2018-19 campaign in an exhibition against Chaminade University of Honolulu on Nov. 1.
The announcement of the school's partnership with Jordan came back in April.
For senior guard Jeremy Hemsley, the announcement came as a pleasant surprise, after originally thinking the team was about to be in trouble.
"It was a dream come true because I thought we were in trouble, we got film session or something," Hemsley said. "I thought it was something bad. They had us in the locker room. They showed us the little presentation video and in the end, it said 'We Are Jordan.'
Toronto Raptors forward and former SDSU star Kawhi Leonard is sponsored by Jordan. It comes as no surprise Leonard's alma mater played a part in this partnership.
Head coach Brian Dutcher said Leonard's ties to the school and being a Jordan-sponsored school helps with recruiting.
"You're always looking for an advantage, especially in recruiting," Dutcher said. "To be one of the select schools to be able to wear it, it's a great thing. Obviously, Kawhi Leonard being a Jordan-brand player right now adds extra incentive to it."
Like many kids, sophomore forward Matt Mitchell grew up wearing Jordan brand shoes on and off the court. He, along with his sister, owned a pair of Air Jordan 13s, which he thought was 'the best thing ever.'
Mitchell said it's surreal to be making the switch to Jordan.
"It's mind-blowing, just knowing you're part of it. So whether it's eight or ten or fifteen, you're one of those schools that support that legacy," Mitchell said. "San Diego State is a great university and combining the Jordan will make us better."
Redshirt sophomore forward Jalen McDaniels said he was once the kid who constantly had Jordans on his feet, something he will now continue to do as an Aztec.
"Wearing Jordans growing up, always having all of them, it's dope to be sponsored by him, the man himself. So getting all the retro gear, I like it a lot," McDaniels said.
The culture of shoes and gear within basketball is more prevalent than any other sport. Kids are wearing their favorite NBA players shoes in hopes to be like them one day.
Michael Jordan is widely regarded as the greatest basketball player ever, and the millions of sneakers he's sold validate how basketball players are inspired by him.
Hemsley said he always wanted to get recruited by a Jordan-brand school, and for his senior year, he will finally be able to experience its mystique.
"It's crazy because growing up trying to get a scholarship, we wanted to go to one of those (Jordan) schools. That's what you want to do," he said. "You wanted to become a part of the Jordan brand."