State treasurer candidates take to campus to discuss the issues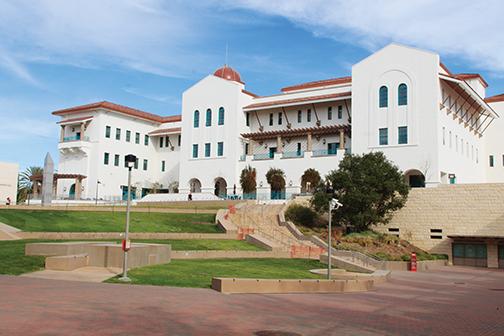 The two campaigns for California state treasurer presented competing visions in the Union Theatre on Oct. 24.
Republican Greg Conlon and surrogate for Democrat Fiona Ma, Will Rodriguez-Kennedy, discussed the campaign during A.S Rock the Vote's candidate forum.
Conlon, a 1955 University of Utah ROTC graduate, joined the U.S. Air Force after college, flying missions over Europe during the Cold War for three years.
Conlon would later work as a Certified Public Accountant for 30 years. Upon his retirement, Conlon was appointed by California Gov. Pete Wilson to be a commissioner on the California Public Utilities Commission. Conlon discussed his experience as necessary to become treasurer while also introducing his concerns about the state's finances.
"California is the fifth largest economy in the world, the wealthiest state in the nation and has the fourth-worst credit rating in the nation," Conlon said. "We have millions of teachers and public employees, and right now their pension is only 65 percent funded – a $300 billion shortfall for a state that has $125 billion in revenues a year. If we don't solve this, it will bring us down."
Conlon introduced his idea to start a new pension plan that would reflect a private-sector 401k for all new state employees. He also said if the pension shortfall is addressed, California's credit rating would improve as well.
Conlon called into question Ma's ability to solve the financial situation, given union contributions to her campaign.
"My opponent has 75 (union) contributions of $10,00 to $15,000 each," he said. "It's going to be hard for her to change anything."
Conlon also raised concerns over the state's budget cuts to the UC and CSU systems, arguing budget cuts increased tuition rates and disenfranchised California residents in favor of out-of-state students.
Speaking on behalf of Ma, Rodriguez-Kennedy spoke about Ma's involvement in Generation Change, a political group targeting young progressive voters.
"Ma has spent her entire career investing and elevating young leaders," he said. "Generation Change is invested in dozens of candidates: in Fontana, Eureka and Buena Park."
He also discussed some of Ma's legislative accomplishments as a member of the California State Assembly.
"Ma passed a bill to ban toxic chemicals in children's toys," Rodriguez-Kennedy said. "She also became Speaker pro tempore, the first person with an Asian-Pacific Islander background to reach that level of state government."
Rodriguez-Kennedy championed Ma's leadership at the California State Board of Equalization after she ordered three audits into the agency. He also discussed Ma's plan to restore funding for student loan forgiveness. When asked about the state's debt, he praised the state's ability to run budget surpluses, calling California one of the better-managed states in the Union.
"All of that was possible because of Democratic leadership," he said.
When asked if Ma also believes unfunded pensions pose a threat to state finances, Rodriguez-Kennedy said she is concerned about pensions and the working people they support.
"The Democratic Party tends to support defined benefit pensions," Rodriguez-Kennedy said. "That means we have to ensure they are managed properly and that they don't take risky bets, (especially) during times of recession."
Rhetoric and Writing Studies junior and Ma supporter Armando Sepulveda said he was excited to discuss state budgetary policy and pensions.
"I think young people are tired of demonizing each other," he said. "It is more fun to have a discussion about policy than about demagoguery."
Senior political science student and College Republicans President Madison Marks-Noble agreed with Conlon's vision for solving long-term budgetary issues.
"It may not affect us now, but it will impact our future," she said. "I believe he is looking out for us as students specifically."