Boasting several televisions, 18 draft beer tap handles and a short walk from a Green trolley line station, McGregor's Ale House in Mission Valley is an ideal pit stop when heading to and from San Diego State football games.
Since 1996, McGregor's has served local patrons looking for a cold drink and tasty bar grub. When designing the space, the owners of McGregor's were looking to create a "comfortable, neighborhood saloon," Managing Partner Ian Linekin said.
"The idea was to create a clean, comfortable, fun space that everyone would feel welcome in — we have a pretty eclectic clientele," Linekin said. "It depends on what time of the day that you come in who you see."
Renovations two years ago leading up to the 20th anniversary have given an upgraded facelift to the bar, while maintaining the same local, Irish pub atmosphere.
"We opened up some areas, changed the colors, put in a new ceiling and redid the lighting (in) honor of the fact that we were turning 20," Linekin said. "We also changed our logo — it was kind of a 'rebranding' a couple of years ago with the idea of freshening up the 'product.'"
Opening at 9 a.m. on Sundays during football season, guests can watch every National Football League game while snacking on their favorite pub fare.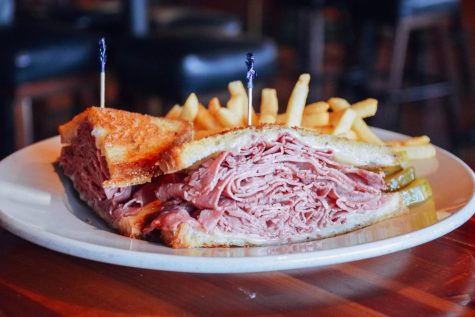 Subscribing to a variety of cable sports packages and playing any game that patrons want to see is not the ultimate allure of the pub, however. For Linekin, he said the combination of regular customers and a caring staff is the major draw to McGregor's.
"The people that work together here and the people who come to visit those who work here make it special," Linekin said. "This is our home — my philosophy is that this is an adult Disneyland, and we're all Mickey Mouse."
Some of the most popular food items on the menu include the burgers, fish tacos, salads made with housemade dressings and the rotating selection of homemade soups, Linekin said.
"The perception is we're a bar, with food, but we take great care in what we do," Linekin said. "So everything is made from scratch, and people go 'Wow, I can't believe I got something this nice.'"
For some Irish pub-style fare, try the corned beef sandwich made with horseradish, or the generously-sized plate of potato skins, loaded with green onions, bacon and cheese.
In addition to the multitude of televisions, McGregor's also has four pool tables, shuffleboard, steel-tipped darts, board games and a jukebox to entertain guests.
"We're a lot of things to different people," Linekin said. "To some people, we're a restaurant, to some people we're a bar, a sports bar, to some people we are an Irish pub — it's all how you perceive us, and we kind of left it up to those who come in to decide what they see and what they get."