Aztecs host UNLV, attempt to keep conference title hopes alive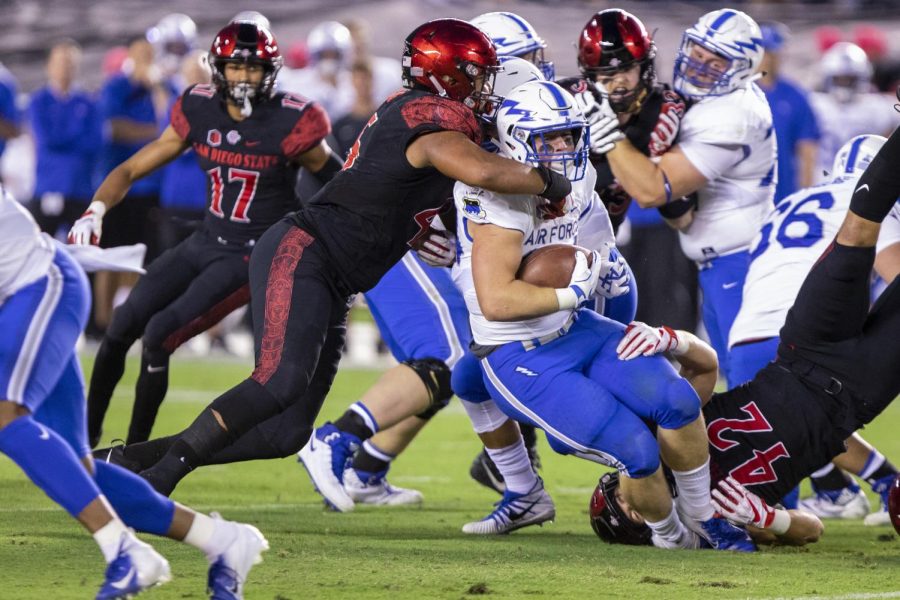 San Diego State football seeks its eighth win of the season when it goes up against UNLV on Nov. 10 at SDCCU Stadium.
The Rebels (2-7, 0-5) are in the midst of a six-game losing streak and are last in the Mountain West standings.
Although UNLV has only won two games this season, head coach Rocky Long said the Aztecs cannot afford to take the Rebels lightly.
"(UNLV) coming in here has some very talented athletes (that cause) you a lot of issues," Long said. "They average almost 30 points a game and gain about 400 yards a game."
Last week, the Rebels were dominated by the Mountain West leader, No. 23 Fresno State, 48-3.
The Bulldogs shut out the Rebels until the fourth quarter.
SDSU's latest game was a 31-23 win over New Mexico on Nov. 3.
The Aztecs (7-2, 4-1) scored 17 answered points in the last 10 minutes of the game to earn the victory.
SDSU has seven comeback wins this season – four of which have occurred in the fourth quarter.
After last week's narrow victory, Long said he anticipates the Aztecs to play in yet another close game this week although they are favored to win.
"We're moving along with the same scenario week-to-week-to-week, so I'm assuming this (game) will be exactly the same," Long said. "And supposedly we're the favorite, but that doesn't mean anything. It's going to be a close game and we'll see if we can win it at the end."
Senior quarterback Christian Chapman, junior running back Juwan Washington and junior fullback Isaac Lessard made their return to the playing field against the Lobos.
Chapman sustained a left knee injury on Sept. 8 against Sacramento State. He entered the game in the second quarter against New Mexico and finished completing 13 of 19 passes for 182 yards and a touchdown.
Long said he was pleased with Chapman's performance and highlighted his first pass completion, which was caught by redshirt freshman Ethan Dedeaux for 29 yards.
"We were pleasantly surprised that he performed so well," Long said. "When the first pass you throw is right on the money and goes for a pretty good gain, you get over that feeling (of nervousness) pretty darn quick."
Washington had 11 carries for 95 yards and two touchdowns in his first game since he suffered a collarbone injury against Eastern Michigan on Sept. 22.
Paving the way for Washington on his 50-yard touchdown was Lessard who took out a New Mexico defender with a crucial lead block.
Lessard said he knew Washington would score if he secured the block.
"I came up in between the blocking linemen and I just saw me and one guy I was like, 'I know Juwan is going to break this because I'm going to get him,'" Lessard said. "Once I blocked him and saw Juwan run free, I was excited."
Lessard has been out of the Aztecs' lineup since Sept. 22 but was thrilled to return to the playing field against the Lobos.
"(I had) so much fun," Lessard said. "Getting out there last Saturday was awesome. Just a great feeling."
In the return of all three original backfield starters for SDSU, the Aztecs put more points on the scoreboard than they have all season.
Along with offensive coordinator Jeff Horton's decision, Long said Chapman will start against UNLV, but junior quarterback Ryan Agnew will play at least one drive.
"I know the plan is that Christian is going to start," Long said. "Ryan's going to come in for a series like Christian did (at New Mexico), and I have great confidence that coach Horton is going to put the quarterback back in there who's playing the best."
If the Aztecs are able to win their remaining three games, they are guaranteed a spot in the Mountain West Championship Game.
Junior linebacker Kyahva Tezino, who leads the Aztecs in tackles this season, said the Aztecs simply need to keep winning.
"I think we just need to win every game from here on out," Tezino said. "The way we train, we're mentally tough and we've been pulling out at the end and getting the win. If we can just keep doing that and make it to the championship, then we've reached our goal."