It's been more than 20 years since the Gallagher brothers posed the question, "How many special people change?" on Oasis's "Champagne Supernova," the epic closing track from the band's Britpop classic "(What's the Story) Morning Glory?"
The song, as a collection of lyrics, is basically incoherent. Noel Gallagher himself has said he has no idea what it means — he told The Huffington Post in 2015, "I listen to the lyrics when I sing 'Champagne Supernova' and I think, 'What on earth is this song about?'"
He said it doesn't matter, though, when he looks into the crowd he's singing to and sees impassioned fans screaming the nonsense back at him, forming attachments to their own definition of the song. "Who gives a f–k about words?" he said in that same interview.
I imagine Matty Healy, the frontman of the Mancunian four-piece pop band the 1975, is one of those fans interpreting the "Champagne Supernova" lyrics for himself. As rock bands have lost their grasp in the cultural zeitgeist since Oasis's reign, the Gallaghers are still largely what inform us of our vision of rockstars: bombastic, self-important, spectacular, destructive, timeless and doomed. These are traits Healy has often toyed with and satirized in his music and in the press, establishing the 1975's reputation as a blur between sincerity and self-parody.
On the 1975's third album, "A Brief Inquiry Into Online Relationships," which came out Nov. 30, Healy wanted to lose those subtle winks and layers of irony that laced his music in the past.
"I've been aware of the shtickiness of my repertoire," he told The New York Times in October. "Like, 'This is the part of the song that's supposed to be really sappy and emotional, but I'm going to say something irreverent so it becomes endearing.' I've tried to be really sincere with this record."
Most emblematic of the shtick Healy is referring to is probably "Somebody Else," a heartbreaking stunner off the 1975's second album describing aching distance between lovers, culminating in a bridge in which Healy declares, "Get someone you love / Get someone you need / F–k that, get money."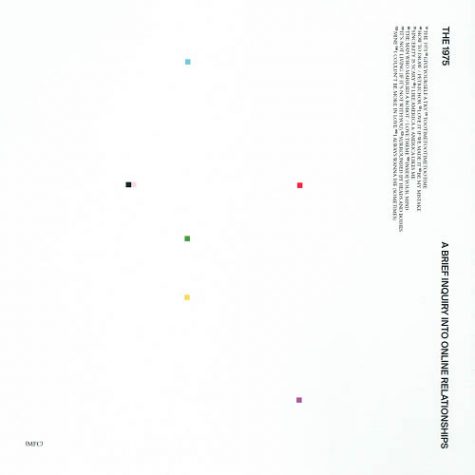 Throughout the 1975's catalog, Healy's songwriting has expertly crafted vivid scenes and emotions in succinct, yet cleverly specific, lyricism. "I'm looking through you while you're looking through your phone / And then leaving with somebody else," he laments elsewhere on "Somebody Else." On "Robbers" from the 1975's self-titled debut, he spins imagery of a couple whose devotion to one another serves as distraction from the destruction they've wreaked. "Now everybody's dead / And they're driving past my old school / And he's got his gun and he's got his suit on / And she says, 'Babe, you look so cool,'" he sings during the track's climax.
On "A Brief Inquiry," the 1975 is less concerned with the details, but rather, the world in which those specific fears, perils and miscommunications are made to exist. The excellent "Love It if We Made It" has Healy running through a roughly four-year span of a Twitter feed, pulling from headlines like the leaked "Access Hollywood" tape featuring President Trump, Kanye West's embrace of "MAGA," rapper Lil Peep's death by overdose, the murder of Eric Garner by New York police and the deaths of young Syrian refugees. Amid the unrelenting bad news, Healy offers a shred of hope: "Modernity has failed us / But I'd love it if we made it," he sings, as in, wouldn't it be great if humanity somehow survived this awful time?
That's not to say "A Brief Inquiry" isn't as introspective as the 1975's past work. Per the album's title, internet culture is Healy's main source of analysis, though it's often through his personal reckoning with a world online. On the Joy Division-interpolated "Give Yourself a Try," the album's lead single, Healy's reflective in confronting an online persona. "The only apparatus required for happiness is your pain and f–king going outside," he sings, and elsewhere on the track, he describes himself as "afraid to go outside / A millennial that baby boomers like," noting that an obsession with staying in to scroll through social media harms himself and the greater world.
On album cut and standout "Inside Your Mind," Healy's driven to insanity wondering what's going on in his lover's head. "Maybe I will wait until your fast asleep / Dreaming things I have a right to see / Maybe you are dreaming you're in love with me / The only option left is look and see," he ponders on the song, longing for that rare information that isn't archived online.
Sonically, "A Brief Inquiry" is a scattershot. The 1975 wears its influences on its sleeve, like a slightly more self-aware Harry Styles with a SoundCloud account. This time around, with the album produced entirely by Healy and drummer George Daniel, the band evokes everyone from Drake to INXS to Trippie Redd to John Coltrane.
"Be My Mistake," an acoustic crooner about cheating, is among the few misses on the album. Soft, sparse instrumentation has never been the band's strong suit, and the lyrics on this particular track aren't weighty enough to make up for it, especially when there's another song about infidelity on the album that's much stranger and better: "TooTimeTooTimeTooTime."
The band experiments with jazz on the record, too. "Mine" lays on the schmaltz extra thick, and, followed by "I Couldn't Be More in Love," marks the boring section of the album. "Sincerity is Scary," the other jazz-inspired track, fares better thanks to quips like, "And irony is OK, I suppose, culture is to blame / You try and mask your pain in the most post-modern way," but still offers an extremely derivative, uninspired version of jazz revival.
Upon release, "A Brief Inquiry" was met with critical acclaim the 1975 had never received before. On review aggregator Metacritic, "A Brief Inquiry" currently sits at an average score of 88 — the 1975's debut posts an average of 66, and its second album put up a 75.  
Interestingly, the 1975 album that most permeated the critical masses is also its weirdest. "A Brief Inquiry" is divided in the middle by "The Man Who Married a Robot/Love Theme," which is the tale of a man called @SnowflakeSmasher86 whose love for the internet leads to his lonesome death, narrated by Siri over twinkling keys.
"I Like America & America Likes Me," which Healy told Pitchfork "started out as an homage to SoundCloud rap," is a heavily auto-tuned confession of a fear of dying, and "How to Draw/Petrichor" begins as an ambient rework of a bonus track from the 1975's previous album, but glitches into focus after an exquisite drop.
The 1975's second album, though masked by the absurdly melodramatic title "I Like It When You Sleep, for You Are So Beautiful yet So Unaware of It," is arguably a more accessible, less complicated album than "A Brief Inquiry." It boasts more provocative, outwardly impressive songwriting, yet the latest effort was more widely resonant.
Perhaps the 1975's re-evaluation as a band of the moment was particularly fulfilling to those seeking visceral reactions to the world crumbling around them. Or, maybe in 2018, the year of Jackson Maine, there's some odd, reignited craving for an outrageous, white male rockstar, especially as the 1975 has drifted away from the more straightforward pop-rock songs that garnered it its young, mostly female, fanbase.
But most likely, Healy seems to have taken that "Champagne Supernova" lyric as a threat — he's constantly changing, adapting and shapeshifting. The 1975 has always been everything at once, like Healy's hell-bent on not being one of those special people who never changes. And now the world, in which each day feels like a new battle, a new disappointment and more bad news, has caught up with his restlessness.
Fittingly, "A Brief Inquiry" closes with the poignant, grandiose "I Always Wanna Die (Sometimes)." It's "Champagne Supernova" for the hopeless millennial, containing the profound lyric, "Your death, it won't happen to you / It happens to your family and your friends."
The record ends by balancing panic with life-affirmation, offering the encouragement to just try and make it another day. Tomorrow will surely bring more bad news, but at least we'll still be here, all the special people who changed by opting for survival.