Counseling and Psychological Services reports rise in students seeking support for sexual assault
Counseling and Psychological Services credits fall semester increase to #MeToo movement and Kavanaugh hearings shifting dialogue.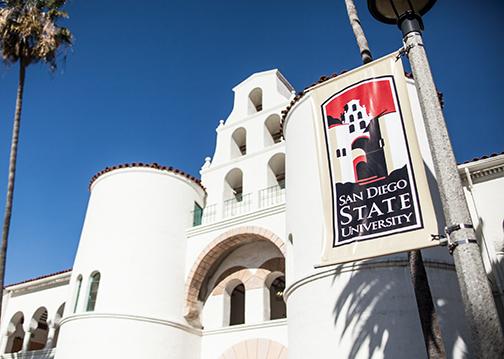 Updated on 2/7/19
Students seeking support for sexual assault from Counseling and Psychological Services at San Diego State increased significantly during the first part of the fall 2018 semester, according to university officials — but it's unclear if the surge is due to more survivors coming forward, or to more assaults happening on campus.
Since the #MeToo movement blew up in fall 2017, more sexual assault survivors have been coming forward to share their stories, shining a national spotlight on the topic. While it might seem that an increase in reporting directly correlates to an increase in sexual violence, it could instead mean more survivors are finding the strength to come forward and report their experiences as a result of a shifting public perception of these cases.
"Most people think high rates of reporting indicate people are having faith in the system," Women's Studies Department Chair Doreen Mattingly said.
The increase in reports on campus was first revealed during a College of Arts and Letters open forum event in October 2018 where the discussion centered around the sexual assault allegations that professor Christine Blasey Ford leveled against then-Supreme Court Justice nominee, Brett Kavanaugh.
During the event, Counseling and Psychological Services representative Michelle Feinberg said the department had seen a 52 percent increase in students seeking support for sexual violence-related trauma during the beginning of the fall semester.
Since not the department is not mandated to report this information to SDSU's Title IX office, these figures likely don't tell the whole story. Counseling and Psychological Services and SDSU's Sexual Assault Victim Advocate don't report assaults to Title IX. Student Health Services is required to report them to university police, not the Title IX office. Faculty and staff are mandated reporters.
"We're actually one of (three) confidential resources on campus that does not have the duty to report to Title IX," Juan said. "We don't actually go to Title IX and let them know about the (students) that we see unless we're given written permission to do so."  
The 52 percent surge reported by Counseling and Psychological Services will, however, likely find its way into the university's annual security report, as the department does report anonymous sexual assault statistics.
"It's important to note that an increase in reporting doesn't correspond to an increase in prevalence," SDSU psychology counselor Mary Joyce Juan said.
Juan added that the surge in reports could be due to the public's reaction to Blasey Ford's testimony and other factors.
Other universities across the nation have seen increases in sexual assault reports over the last several years.
A story by The Daily Beast broke down national statistics in crimes on campuses, released by the U.S. Department of Education, showing a 205 percent increase in sexual assault reports from 2,200 in 2001 to 6,700 in 2014.  
SDSU's 2017 and 2018 Annual Security Reports for the years 2014 to 2017 show a slight downward trend in sexual crimes such as rape. In 2014, there were 30 cases of rape reported to university police, decreasing to 19 reports in 2015 and 10 reports in 2016 and 2017.
Yet sexual assault remains one of the most underreported crimes that happens on college campuses, skewing statistics on universities' annual crime reports.
Though movements like #MeToo and #WhyIDidn'tReport have been changing the dialogue surrounding survivors, some students think more needs to be done on college campuses to prevent sexual assault and increase student awareness.
Interdisciplinary studies senior Melat Zippi said she thinks the university should focus on teaching more sexual assault prevention courses rather than just telling students what their resources are.  
"I think the cure is prevention," Zippi said. "I think an ethics course as a mandatory (class would) be great."
An earlier version of this story incorrectly referred to Title IX as Title IV, and did not accurately describe which departments don't report sexual assaults to the Title IX office. Counseling and Psychological Services, Student Health Services and the university's Sexual Assault Victim Advocate don't report assaults to the Title IX office. However, Counseling and Psychological Services does provide anonymous statistics for the university's annual security report, and Student Health Services reports assaults to the San Diego State University Police Department.