University selects Salvador Hector Ochoa to become the next provost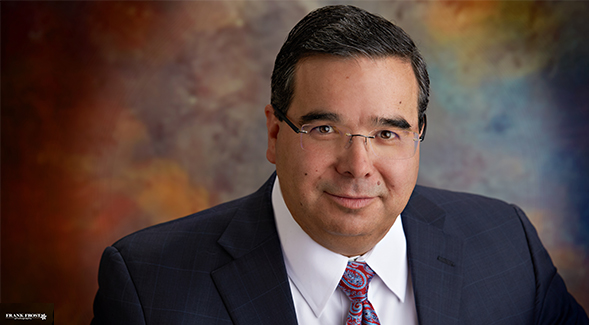 The search for the San Diego State's next provost is over.
University President Adela de la Torre announced in an April 8 campus-wide email that Salvador Hector Ochoa has been selected for the position.
Ochoa is currently the dean of the College of Education at the University of New Mexico. According to the president's statement, he has conducted nationally-recognized research on bilingual psycho-educational programming issues related to Latino students and has served on a U.S. Department of Education Expert Advisory Panel for the Study of English language learners with special needs.
"I am deeply humbled and honored to have been selected as San Diego State University's new Provost and Senior Vice President." Ochoa said in a statement to the university. "I am excited to join President Adela de la Torre as she mobilizes the assets of an extraordinary faculty, staff and student body to reach higher levels of quality and service to the region."
The search for a new provost began during the fall semester of 2018 following the mysterious resignation of Chukuka S. Enwemeka in May of that same year.
Enwemeka had undergone an early administrative review following his decision to terminate then-former Associate Vice President of Faculty Advancement Joanna Brooks in spring 2017, though it's unclear whether that situation played a role in his resignation.
Since then, Brooks has been reinstated in her former position and Enwemeka has returned to his previous position as professor in the College of Health and Human Services.
Executive Director of the National Center for Urban School Transformation, Joseph F. Johnson, has been serving as interim provost for the 2018-19 academic school year.
De la Torre said she is confident in Ochoa's experience, leadership and capacity to work collaboratively.
"Ochoa's appointment is ideal as we look toward SDSU's future in Mission Valley and begin work to solidify the new strategic vision and plan to elevate our research enterprise, binational impact and the overall support and success of our students," de la Torre said.
Ochoa identifies as a "son of the border" and said he was attracted to the university because it's a resource for meeting the challenges, hopes, dreams and opportunities embodied in border life.
"I am grateful to President de la Torre, the Search Committee and the administrators, faculty, staff and students for their welcome and support," Ochoa said. "Y ahora, a trabajar."
Ochoa, who is currently the dean of the College of Education and a professor at the University of New Mexico, will begin his post on July 2.