Transfers from local community colleges increase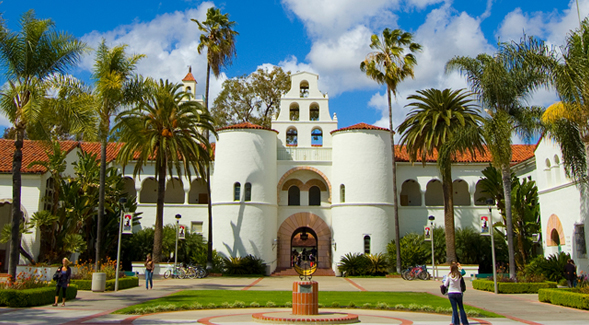 San Diego State is seeing a rise in local community college transfers as the university increases available spots for transfer students.
Interim Associate Vice President for Enrollment Sandra Temores-Valdez said SDSU has  received 3,034 intents to enroll from students attending local community colleges for the upcoming semester. This is about 76% of the incoming transfer class. In fall 2018, SDSU received 2,439 intents to enroll from local transfer students. 
While the intent does not specifically indicate enrollment, the students have said they are coming to SDSU and more than likely to be attending the upcoming school year, Temores-Valdez said. 
"As far as our admission consideration, local students get a preference given they are attending one of these local community colleges," Temores-Valdez said. "So, that's one of the reasons why 76% of our incoming transfer students are actually local students."
The largest amount of intents come from Grossmont College. The top three colleges with the largest percentage of this year's transfers are from Grossmont College, San Diego Mesa College and Southwestern College. With 24% from Grossmont, 21% from Mesa and 19% from Southwestern, Temores-Valdez said.
An increase in enrollment growth funding this year meant there were more spots open for prospective transfer students.
"One thing that is really important, which I'm really excited about is that this year we were able, because of enrollment growth funding, to bring in 600 more transfer students into the university and accommodate our local students," Temores-Valdez said. 
International security and conflict resolution senior Emily Woo, a transfer from Mesa College, said she picked SDSU for the ISCOR major, the location and the diversity. But she said there are definite benefits to attending a community college before university. 
"The biggest benefit was definitely the smaller classroom settings combined with the ability to get to know professors and kind of get the confidence that I needed in the classroom with grades and coursework and just at more of a college-level as opposed to a high school-level course load," Woo said.
Health communication senior Finola Wade, also a transfer from Mesa College, said one of her Mesa professors was very helpful in encouraging her transfer to SDSU.
"I just knew (SDSU) was a beautiful campus and I had heard great things about professors," Wade said. "I was just like, yeah, this shift seems like the right transition for me."
"It just felt like an easy transition."
Enrollment Services continues to work with local community colleges by assigning admissions counselors to the various schools to support potential transfers through the application and enrollment processes, Temores-Valdez said.
"We have two different admission counselors who are assigned to these local community colleges, and they work with students not only through presentations but also with their counseling staff to ensure the students understand what they need to do to apply, and then also once they get admitted to enroll to the university," Temores-Valdez said.