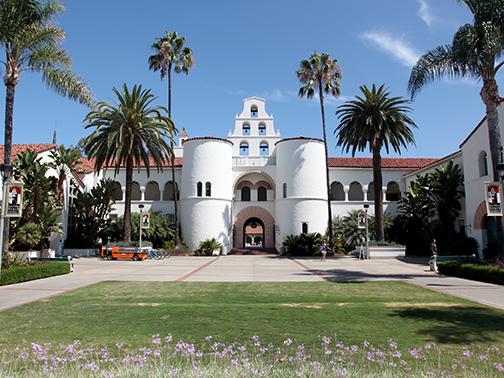 San Diego State publicly announced their commitment and support for the safety of undocumented students, faculty and staff amidst concerns of Immigration and Customs Enforcement's pursuit in arresting undocumented individuals across the nation.
A campus-wide email sent on July 12 contained information regarding the resources readily available for undocumented individuals in the SDSU community.
According to the email, one of the main resources available to undocumented students is the Undocumented Resource Area, located within the Office of Educational Opportunity Programs and Ethnic Affairs. 
Associate Vice President for Student Affairs Antionette Marbray said in an email the URA is an essential resource serving the unique needs of undocumented students.
"We know that undocumented students may come with uniques concerns or worries," Marbray said. "Which is why we have intentionally built a campus network of formal and informal support."
The area's Coordinator Cynthia A. Torres said in an email the URA is designed to guide students in their academic success and inform them of both campus and local resources to support their education and well-being. 
"URA services are developed to improve persistence and graduation as well as offer a safe space where students can connect with one another and their allies," Torres said. "It is important to note that the available resources are offered at no cost to our students." 
The center provides a number of resources, including one-on-one appointments with the URA coordinator and assistance with the California DREAM Act and DACA renewal.
The URA also hosts UndocuAlly Training, a unique program designed to raise awareness of the life experiences and struggles of undocumented and mixed-immigration students. Torres said the training offers a close-knit community and safe space for students who are undocumented. UndocuAlly Training is also open to those who wish to support the undocumented community.
The program consists of a presentation with activities and videos to detail the experiences of students from both backgrounds. The training also reviews federal and state laws that affect undocumented students. 
In an email response, EOP Director Miriam C. Castañon said UndocuAlly Training has been tremendously successful and surpassed its initial number goal of trained "allies" — students, faculty and staff who have completed the training. 
"Last year, URA was set to provide allied training to increase the campus undocumented allies from 30 to 70," Castañon said. "However, I am pleased to report that the number of campus allies is (currently) 301." 
Torres said the services the URA provides are crucial to not only undocumented students, but also the greater community. 
"These types of resources are invaluable to our undocumented students and, by extension, their families," Torres said. "The URA is open to all undocumented students (including those with mixed-status families), faculty and staff, allies as well as the community at large." 
A previous version of this article misspelled Miriam Castañon's name. The Daily Aztec regrets this error.