As students pack their bags in preparation for moving season, some room décor styles have stuck around while others seem to have been left at home.
Some of this year's biggest trends include open closets, indoor plants and innovative do-it-yourself projects.
Out of the closet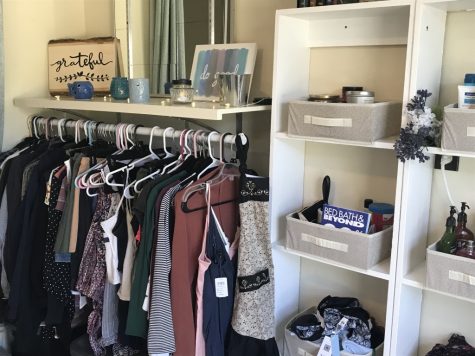 One of the newest trends is having a floating closet as a piece of furniture in the room. Not only does it provide more storage space in a cute and trendy fashion, but it also serves as a statement piece for the room. 
You can hang clothes or bags, store shoes or hats and anything you own you wouldn't mind displaying. All your cute, trendy clothes can be displayed out in the open to add to the room's ambience, while casual clothes such as sweats relax in your drawers. 
People can get creative and go outside of the closet parameters by hanging plants from the top bar and storing larger pots on the bottom shelves. Plants are also on trend, but we will get to that later. A negative about this set up is that it's not the biggest space-saver. Those who lack floor and wall space might opt out of this room trend.Human resources management senior Jill Verhaeghe added a rolling closet to her room this year. Her father built it for her from scratch.
"I like it a lot because it is convenient and adds more closet space," Verhaeghe said. "It really makes me wear more of the clothes in my closet. I plan out my outfits on it and it makes me not re-wear the same clothes all the time."
Psychology senior Allyson Peffers made her own closet from scratch by using a shelf unit from Lowes. Her closet doesn't roll because it is connected to the shelf, but it gives her the extra space she needs.
"I love that my clothes are easily accessible, and a full closet would have been bulky and disrupted the flow of the room," Peffers said. "I think its trendy because it displays my clothes in a cool way, kind of like a clothes rack, and it gives me shelf space on top for decorations."
Plants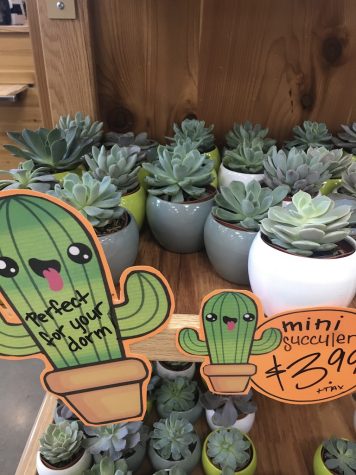 Plants, more specifically succulents, were a huge trend last year and have reappeared in bedrooms, coffee shops and boutiques as a popular décor item. Plants are great because they bring life to a room and help to spruce up the space. The only downside for busy college students can be taking care of them. Fake plants are an option, but even those need to be dusted. Cute plants can be found at many stores, but the Trader Joe's under South Campus Plaza offers options close to home. Smaller plants are easier to manage in dorm rooms, while students who live in larger spaces may opt to  splurge on mini trees or frons. Depending on your gardening skills and the size of the space you're working with, there are a great variety of plant options to choose from.
Do It Yourself Extras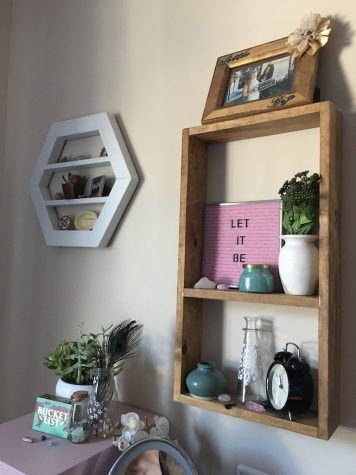 Do it yourself tutorials are almost everywhere. It's usually pretty easy to find a tutorial somewhere for whatever you want to make. Verhaeghe and Peffers both said they create DIY décor for their rooms.Verhaeghe said she paints bottles, wires picture frames and makes shelves for her room. She also creates macramé items such as pot hangers to frame her window.These are little touches to her room that add personality and color. Everything is one-of-a-kind as well because she made them herself. Shelves and decorations like these could probably be found in stores, but they would likely cost more. Peffers said she likes to paint. She creates her own signs and canvases, which she also sells on her Instagram. Some other classic trends that have held up this year include: String lights, Polaroids, tapestries and flags, candles, fun rugs and textured blankets.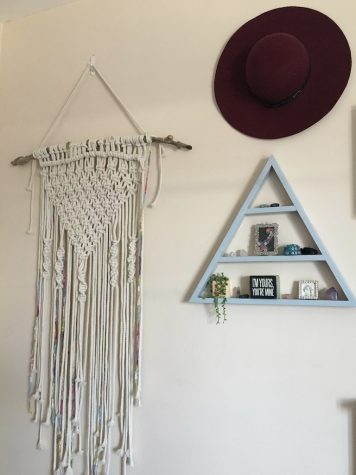 Flags and Posters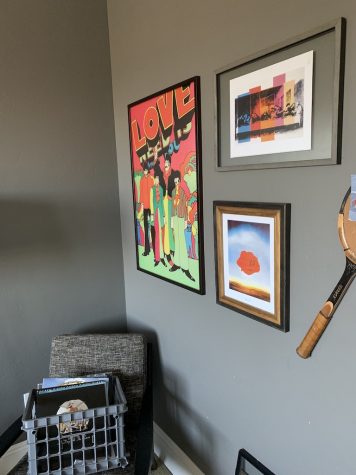 Brenden Tuccinardi and Aaron Tolentino use flags and posters to decorate their rooms. Beatles posters and records are Tuccinardi's artistic touch in his room. He also included a chair in the corner to spread furniture throughout the space. 
Tolentino is sticking with the sports theme while representing his favorite teams.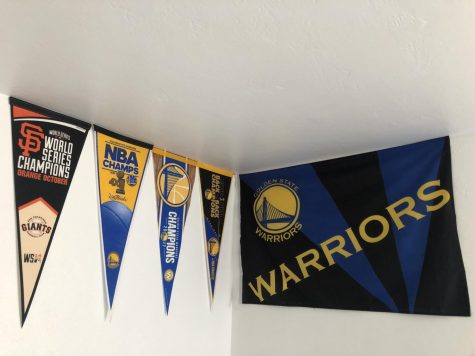 Ceighlee Fennel is studying journalism with an honors minor.