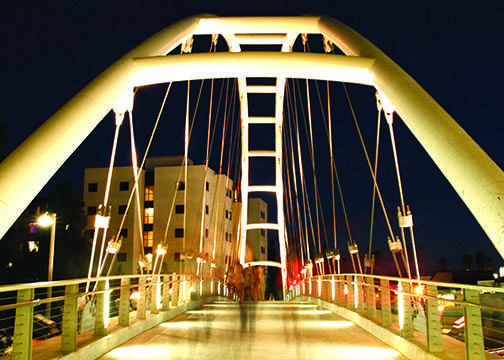 A recent Lyft partnership with San Diego State — the Late-Night Ride program — now provides another resource for getting around campus with an emphasis on student safety.
SDSU Parking & Transportation Services first partnered with Lyft in 2017 to implement more safety on campus for students. In Oct. 1, 2018, the partnership expanded to include the Late-Night Ride, according to a campus-wide email from SDSU Parking & Transportation.
Through Lyft, students are able to request a ride from any campus building, excluding residence halls, within the university's geofence. The Late-Night Ride program has been designed to safely transport students from a location on campus to either their vehicle or local residence. This service is available Sunday through Thursday between midnight and 4 a.m., according to the email.  
"We started the late-night program as we knew that some students may be on campus later than the Red & Black shuttle operates and wanted to provide resources for them," Debbie Richeson, director of Parking & Transportation Services, said in an email response.
Students must create a business profile in the Lyft app with their SDSUid in order to receive the discount. Once students sign-up and verify their university email address, the discounted ride will be available by entering a promo code. Promos are regenerated each month, with the code beginning with Aztec and ending with the first three letters of the month, according to the Parking & Transportation Services website.
"The university subsidizes two rides a month up to $5 for this service," Richeson said. "If traveling further, your account will be charged the remaining balance."
The SDSU Police Department made a statement on the program.
"The University Police Department supports any collective decisions that help support the safety and well-being of our campus community," University police spokesperson Raquel Herriot said in an email. 
Students who have used the program said it offers a safer alternative to other late-night modes of transportation.
"I think it's very beneficial for students because it keeps them out of bad situations, such as drinking and driving, going to a party and having to find your way home, and walking home and getting lost or anything like that," English senior Madeline Teravers said. 
In an effort to spread the word about the program, Richeson said Lyft is trying a new marketing technique. This year, Lyft provided informational packets in freshman residence halls as part of its educational campaign on campus.
This comes after the response to the program's implementation was lackluster, Richeson said.
"The education campaign for the program did not get the response we anticipated," Richeson said. "This year we have strategized with partners on campus to strengthen our outreach."