Some of San Diego State's clubs and students showed their support for a student-made app called Tap In last Saturday at a promotional event in an event space in Kearny Mesa.
The application, Tap In, was originally created for SDSU artists and entrepreneurs. Biochemistry senior Harlem Atwood-Fitzgerald created the app. He said he saw a need for a platform for creative students to network, grow and promote their businesses. 
"I noticed there was a huge growth in the creative class," Atwood-Fitzgerald said. "I want to help young people who are starting their own businesses who haven't jumped into it far enough yet. There are creative collectives that can't network or are exclusive, so with Tap In I wanted to create a virtual community of people who are trying to collaborate and network with each other."
At the event, there were students who represented different creative mediums from programming and fashion, to music and photography and more. The crowd ebbed and flowed throughout the night, but because of the distance between the event and campus, it made transportation to the event difficult for some. 
The app's promotional event featured SDSU musicians, artists and brands including student organizations Creative State and the SDSU Digital Arts Club.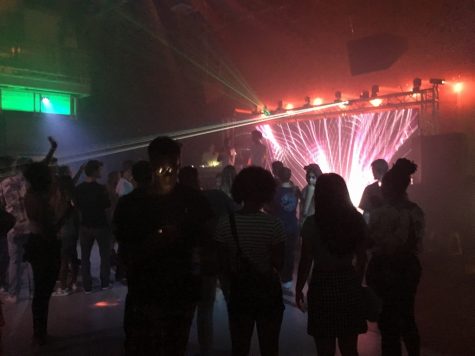 Artbrandco, a clothing line started by other local San Diego college students, was just one of the lesser known brands that was able to benefit from the event.
"We come to these events because we want to uplift underrated artists by giving them a community to fall back on," said Cal State San Marcos student and clothing creator Lorenz Christopher. "We want them to be able to express their artwork without judgement. We also do events like this because we want to be able to put our brand's name and purpose out there and get direct face-to-face connections with our consumers."
While the event got off to a rough start with some electrical issues and fighting between attendees, things smoothed out once the music got started.
Two of the headliners, NateyZ and Quiet Child, mingled after their performances. They both enjoyed the event and thought it was a great way to bring different forms of art from campus together.
"The event went well, everyone performed and had a good time," said alumus Nate Zaslove, or NateyZ. "All of the rappers and EDM artists are coming together to make an inclusive culture. It's beautiful to see."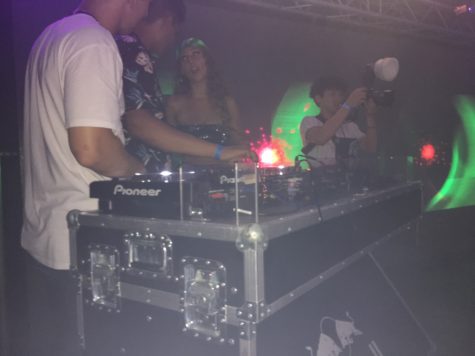 The event was held in a smaller space with lights, fog machines, lasers and digital displays. The performances were a mix of rap and electronic dance music with a set list straight from SDSU students.
Quiet Child and NateyZ opened for Daniel Caesar last year in the Cal Coast Credit Union Amphitheater at the campus's annual Greenfest concert. They came back to San Diego to perform at Tap In. 
Thulani Kachingwe, also known as Quiet Child, said he felt positive about the event.
"State is in a really good place right now with the music culture," said alumus Kachingwe. "The fact that people are coming out to live events is really cool. I always love performing, it's always fun and a good time. Our performance was for Mac Miller because he passed one year ago that day."
If people needed a breath of fresh air from the small dance room, there was a patio section where people mingled around tables. Alcohol was provided for people ages 21 and older.
This promotional event was mostly about drawing attention to the new app and the creative communities on campus, Atwood-Fitzgerald said. He is inspired by his background and wanted to bring people together with his app.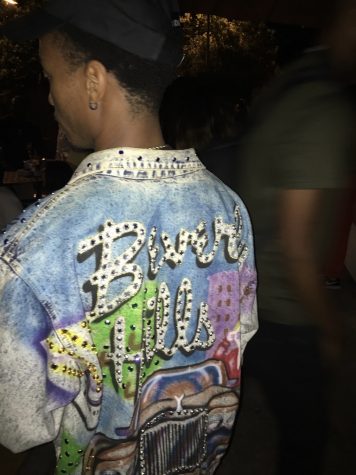 "Through the power of collaboration and teamwork, even though we are young, we can do anything," Atwood-Fitzgerald said. "I'm from a background where I spent time in a homeless shelter and everything I'm doing right now and have made is because of the people I was able to team up with. They empowered me and pushed me up to be where I am now."
Tap In launches in February 2020.