Gus Chavez, former EOP director, dies at 76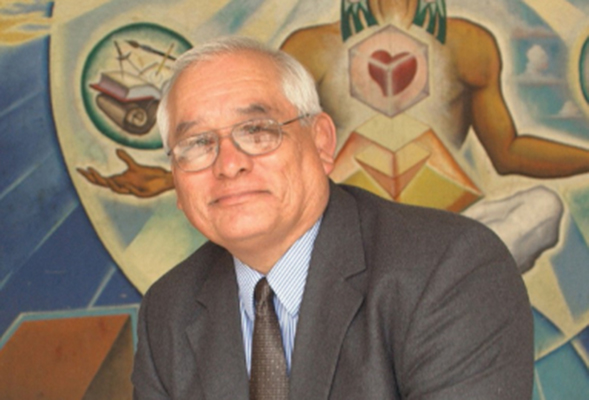 Gus Chavez, the former director of San Diego State's Educational Opportunity Programs and Ethnic Affairs who led the department for three decades, died on Aug. 18 at the age of 76.
Chavez is remembered for his activism and leadership in advocating for Chicano and Chicana students at SDSU, specifically within the EOP program he helped organize and lead. 
A former Navy hospital corpsman at Naval Medical Center San Diego, Chavez graduated from SDSU with a degree in political science in 1971. 
His involvement on campus wouldn't end there.
In the following years, Chavez would play a significant role in EOP — a program designed to serve students from underserved and low-income backgrounds.
In 1969, California State Senate Bill 1072 recognized the need to open higher education to students from these backgrounds. This bill paved the way for the creation of an EOP department at SDSU, according to the department's website.
When EOP was first established on campus, the program was founded as five separate programs for African American, Chicano, Native American, Filipino and female students.
Chavez was instrumental in reorganizing the five departments into a single coalition. He became director of the newly unified EOP in 1974, a position he would hold until 2003, according to the EOP website.
Under his leadership, EOP would expand as a unified program, expanding educational opportunities for underserved and low income students. 
At EOP's founding in 1969, fewer than 300 students were assisted by the program. In the three decades under Chavez's leadership and beyond, the program's website said it has grown to serve on average over 3,000 since the turn of the century.
The program Chavez helped organize and grow celebrates its 50th anniversary in 2019.
Before he directed EOP, Chavez helped lead a Chicano and Chicana civil rights movement on campus that would culminate in the founding of SDSU's Department of Chicana and Chicano Studies. 
His work advocating for Chicano and Chicana representation on campus also saw the creation of a collection of Chicano and Chicana artifacts to Love Library in 1978.
The collection brought 17,000 Chicano- and Chicana-related documents to the SDSU library.
Additionally, his activism on campus saw the creation of student organizations to further the recognition of Chicano and Chicana students on campus.
According to SDSU Newscenter, Chavez played a key role in founding the RAZA Advocates for Chicanos in Higher Education and the CSU EOP Directors Association. Furthermore, he was heavily involved in the Movimiento Estudiantil Chicanx de Aztlan, or MEChA. 
The university will establish a scholarship in Chavez's honor, according to SDSU Newscenter.