San Diego State's campus is home to many different types of arts. They are seen by students everyday, but can often go unnoticed.
Here are some notable artworks on campus.
100 YEARS, 100 STONES
 The black rock display in the center of Campanile Mall near Big City Bagels is not a place to sit, it is actually a piece of art..
"100 years, 100 stones" was created by Eve Laramee to commemorate the 100th anniversary of SDSU in 1997, according to University History Curator and anthropology professor Seth Mallios.
The installation was built with 100 stones from 100 different sites, all of them within a 100 mile radius of campus.
One intriguing thing about this art piece is how it reacts to sound when a subject stands inside of it.
"When you stand in the center, the sound reflects back to you, regardless of whether or not you are facing rocks or not," Mallios said. "It just goes to show how perfectly designed the sculpture is. It forms the perfect echo."
PICASSO'S EYES
On the outer walls of the Art North building lies a mural featuring a mosaic of colors, shapes and two large, distinct eyes. The mural used to be "Ojos de Picasso," or "Picasso's Eyes," but it has been painted over by students over the years. The original mural was made by Mario Torero in 2016 with the help of 10 SDSU students, according to a San Diego Union-Tribune article. 
Torero intended for the mural to be temporary. The eyes remain under countless layers of paint. According to the article, Torero said the eyes serve as a symbol of diversity, free speech and revolution.
For interior architecture sophomore Sophia Ramirez, the mural reminded her about being creative in her artwork and designs.
"I've been seeing it since my first semester here and it's always reminded me to not take art too seriously," Ramirez said. "It's more expressive and you really have to look at it to see what it is instead of knowing right away."
LOVE LIBRARY MURALS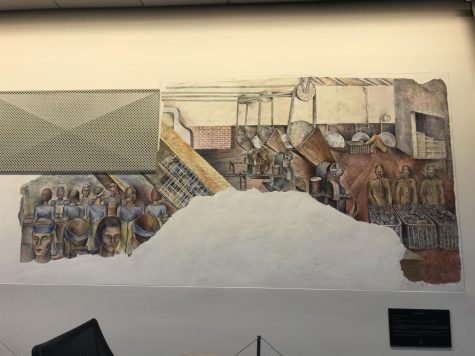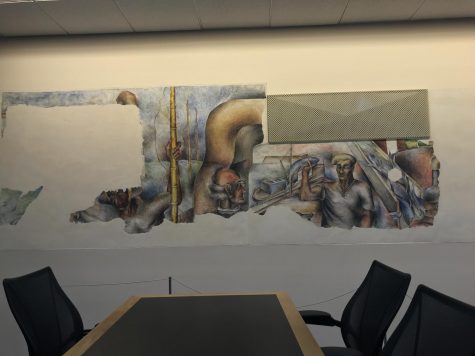 Within the Malcolm A. Love Library, there are two notable murals with significant ties to the university's history.
The first one, titled "NRA Packages," was made in the 1930s by a student named Jenevieve Burgeson-Brado. 
It displays colorful scenes of a woman and child watching workers unload packages into a store. The packages are titled "NRA" because of the National Recovery Act, a New Deal program which provided relief for people from The Great Depression of the 1930s.
The second one is titled "San Diego Industry." It was made in the 1930s by a student named George Sorenson, who eventually became chair of the art department at SDSU.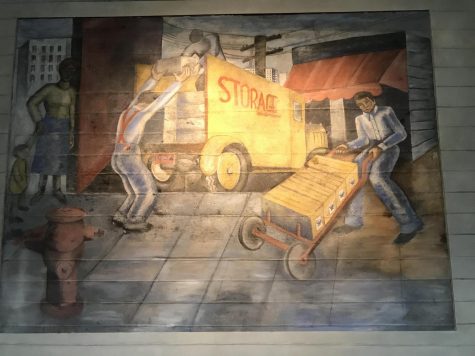 In a fresco-inspired design, the mural displays a variety of characters in different phases of the tuna industry process, which was a staple industry in San Diego when the painting was done. The composition stands over 30 feet high in the air.
Both murals were originally located in Hardy Tower, which was home to the art department in the 1930s, but were thought to be destroyed. Mallios found both murals in 2004 in the building's basement, hidden and partially destroyed because of a lowered ceiling. Both murals display the impact of the Works Progress Administration in the city of San Diego and here on campus.
Both murals have now been restored and sit in the main floor of Love Library, just to the left of the dome.
HANGING DISK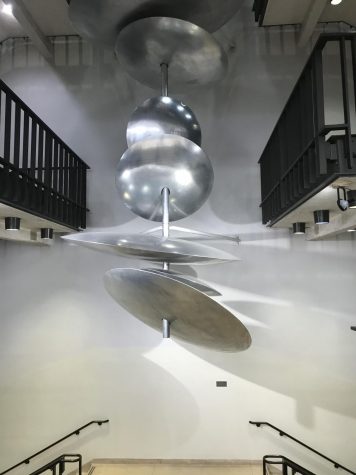 Also found in Love library is an unorthodox sculpture hanging around the staircases. This sculpture is called "Hanging Disk," and was created by a student named George Baker in 1970 for an art contest.
Featuring large grey disks suspended within the air, the sculpture is quite heavy and elaborate in its display.
"In its entirety, the sculpture weighs about 3 tons," Mallios pointed out. "It originally had lights and could rotate, but now it does not. I still see it move from time to time though."
ALICE IN WONDERLAND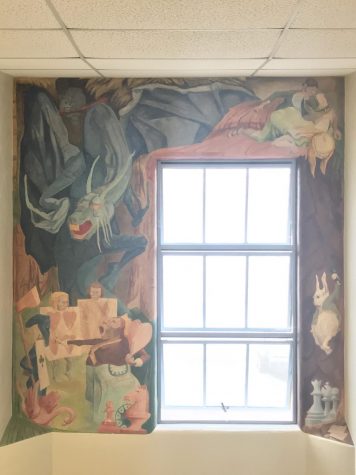 Lastly, painted on a wall above the staircase in Hardy Tower is a mural titled "Alice in Wonderland."
Mallios said it was made in the 1940s by Albert J. Lewis, who was an art student at SDSU.
The mural is small, yet it features a vivid composition of many different characters from the book "Alice in Wonderland." It is colorful, bright, bold and crowded, featuring a dragon, the white rabbit and playing card soldiers.
One interesting note about the piece is it was painted over and thought to be lost forever.
Mallios said he went to find it in Hardy Tower in 2013, and he was able to find the mural in the exact same location, just painted over. His team was able to restore it, and it now sits in Hardy Tower in all of its former glory.
Every art piece mentioned share one thing in common: they often go unnoticed by students.
Criminal Justice sophomore Ashley Sevilla said she believes it is important for students to notice the art on campus because it tells so many stories.
"Showcasing art is important because it can shine light on important issues occurring in today's society," Sevilla said. "Each piece of art tells a story about the creator and their perspective of the world. Sometimes an art piece's message can teach us important lessons too." 
For Mallios, he encourages students to go and see these artworks around campus to learn about their stories and importance to SDSU.
"All of these artworks tell stories, but there are no labels on it," Mallios said. "So many of them tie to the history of SDSU. All of them were done by SDSU students."