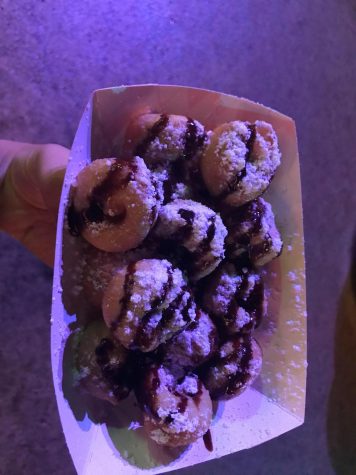 The holiday season in San Diego may not always feel like winter with the warm weather, but the various holiday events in town warm even the grinchiest of hearts. Every year, Balboa Park hosts December Nights where all museums are free for the first  Friday and Saturday in December. The whole park is decorated with Christmas decorations and lights while performers of all genres put on shows and food trucks sell all kinds of food. 
This year, December Nights fell on Dec. 6 and 7.
Holiday Events
A must-see at December Nights was the Festival of Trees presented by the San Diego Floral Association. The room was filled with numerous Christmas trees with all differing decorations. There was a space-themed tree, classic green trees, a peacock tree, white trees with pine cones and many more. Bouquets were also for sale, said Tara Egipto, a volunteer for the San Diego Floral Association.
"The San Diego Floral Society is always known every year for their Christmas trees," Egipto said. "They have all these lovely Christmas trees inside and sometimes they're decorated with different countries and it smells so good when you go in there. It's known as the stop that you need to come to when you go to December Nights."
A human-sized nativity scene series was near the main Christmas tree.
A large light display of Santa and his sleigh being pulled by his flying reindeer was a favorite photo spot for many visitors of December Nights. The Botanical Building and Lily Pond were decked out in red and green lights which is where many people used the scenic area for a backdrop for their holiday Instagram photos.
Museums and Art
Notable museums to visit during December Nights include the San Diego Air & Space Museum, the San Diego Natural History Museum and the Fleet Science Center. Balboa Park is home to nine museums total with a brand new Comic Con museum, yet to be opened.
The San Diego Air & Space Museum stands out because of its interactive features that make each visitor feel like an astronaut on a journey through space, determined to rediscover the stars.
The Air & Space museum also holds many vehicles of flight. They offer images, videos and audio archives including never-before-seen footage of local and national space history and information on historical figures such as Amelia Earhart and Charles Lindbergh.
Then there is the San Diego Natural History Museum. If you want to feel like Ben Stiller in the movie "Night at the Museum," visit the museum and see replicas of T-Rex skeletons and more. The Fossil Mysteries collection shows dinosaurs and other prehistoric animals, some home to prehistoric southern California. Visitors can touch and assemble real fossils and rocks to tell a story about each dinosaur's life and demise.
They currently have an Insects Face-to-Face exhibition with larger-than-life photos of insects up close and personal. They also have a giant screen theater with informative movies about the ocean, 3-D movies about the Pacific and more.
Music and Performances
Performances included choir singing for classic Christmas songs, Spanish music, tap dance performances, alternative rock performances and more.
Multiple performances were going on at once with roughly three-to-four stages all around the park. Each performance had music of all genres and many drew large crowds.
"December Nights was a great experience," public health junior Monique Woodworth said. "I enjoyed seeing all of the cute Christmas decorations. There was a lot of food vendors from all over which made it exciting as well. I can't wait to go again next year."
Woodworth also said how she heard bands playing and saw people doing the Cupid shuffle and the wobble.
Food and Vendors
Food trucks at December Nights sold poke bowls, flavored fries, crab cakes, bratwurst, Mexican food, Thai BBQ, Taiwanese food, sushi, spam, grilled cheese and more.
The mini donuts came in many mouth-watering flavors such as cinnamon sugar, powdered sugar, chocolate and more. 
Many unusual foods were sold such as Thai Burgers and rainbow-colored roasted corn. 
Many booths sold clothes, jewelry, herbal oils, pet ID tags and more. Educational booths about different religions were also scattered in the park.
Even with the threat of rain, many people showed up and performers exclaimed in between sets how they were so happy they didn't get rained on for the second and final night of December Nights.
"I always come here every year," film junior Esteban Quintanar said. "I started when I was a little kid and it never disappoints me and it's always better with good company. My favorite part was seeing the concerts and especially the lights. I think the lights make December Nights."