San Diego Metropolitan Transit System has unveiled a bus-only lane along three miles of El Cajon Boulevard in an effort to improve traffic conditions and provide a quicker route to various travel destinations according to the San Diego MTS website, sdmts.com.  
The Boulevard Bus Way, unveiled in early January, allows the Rapid 215 and MTS Routes 1 and 6 to avoid vehicle traffic through the neighborhoods of North Park, Normal Heights and City Heights. 
The route was first proposed by two city council members in a memo authored last year. Council President Georgette Gómez and Councilman Chris Ward announced a pilot program in January 2019 to test the efficiency of bus-only lanes in hopes they would reduce delays and make public transit a more efficient transportation option in San Diego.
The memo called bus-only lanes "a key component" in increasing travel speeds and reducing congestion and delays caused when buses travel with vehicular traffic, and recognized extending the lanes to SDSU as a long-term goal.
In a statement to The Daily Aztec, Gómez said the bus way would increase transit options, specifically for the university's commuter population. 
"The El Cajon Boulevard bus-only lane is an important public transit expansion that will give more San Diegans a real choice in how to get around town," Gómez said. "Many San Diegans, including a growing student population at SDSU, rely on transit. I'm very glad to have been able to bring this pilot to our communities." 
Gómez also said the project is only the beginning of providing more public transit options throughout the city.
"This paves the way for future action to reduce commute times, improve quality of life and address climate change throughout the region," she said. 
Rapid 215, a bus rapid transit line that offers riders higher frequency trips with fewer stops, currently connects SDSU and downtown using El Cajon Boulevard. Rapid 215 first began operation in 2009 as the first bus rapid transit line in the San Diego region.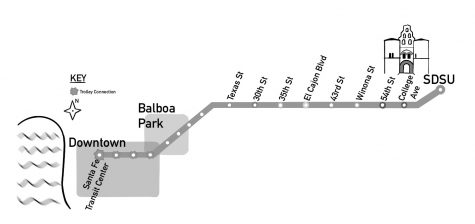 MTS also operates Route 1 — which travels along El Cajon Boulevard and connects La Mesa and Fashion Valley — and Route 6 that connects Fashion Valley to North Park.
City Planning senior and commuter student Wesley Cooksy said the new lane would connect much of the SDSU population to locations across the city.  
"I looked at this and I thought, the Rapid 215 goes to SDSU, and I thought that's a big route that connects us as students to downtown San Diego, Balboa Park and a lot of other places," Cooksy said.
Cooksy, a Green Love member, said he advocates for public transit because it is better for the environment.
Television, Film and New Media freshman Mark Borja said the incorporation of a new bus lane is great . 
"Well I think it's an awesome addition to the bus routes and the rapid buses," Borja said. 
Borja said he finds the rapid buses can cut his commute from his hometown to downtown San Diego by 5 or 10 minutes. 
"So I live in South Bay, and downtown San Diego to South Bay (takes) pretty much 20 minutes," Borja said. "The rapid buses cut that by like five minutes or ten minutes, and just having another bus route makes it easier for everyone's commute to work or school, like going to SDSU and other places in San Diego." 
The Rapid 215 runs from about 4:30 a.m. to 12: 50 a.m. on weekdays when starting from SDSU. On weekends the bus runs from about 4:50 a.m. to 12:20 a.m. A one way fee on the Rapid 215 costs $2.50 to ride unless you are a senior citizen, disabled, or have Medicare in which it would cost $1.25.