Traffic, lack of campus involvement among issues commuters to SDSU face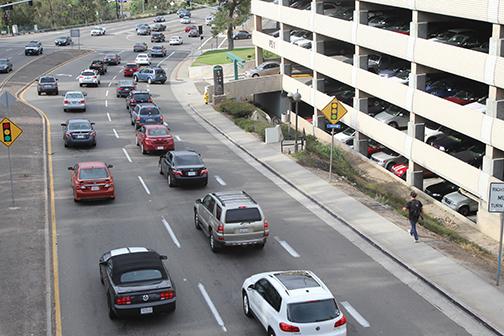 San Diego State kinesiology pre-physical therapy sophomore Natalie Wong can easily get places around campus because she lives on campus. 
She is able to attend her classes while also playing tennis on campus in the evenings. Wong said it takes her 10 to 15 minutes for her to get to class. 
Unlike Wong, who lives on campus, environmental science sophomore Marina "Lani" Pangilinan wakes up in her Chula Vista home around 6 a.m. to get to her 8 a.m. classes on time. If she leaves at 7 a.m. in the morning, or a little later, she said she will end up being late due to traffic.
Pangilinan is part of the 85% of students who commute to SDSU, according to the statistics on SDSU's Commuter Life homepage. 
"Being a commuter is not easy," biology and Spanish sophomore Ayleen Herrera said. "Having to deal with traffic, not being able to be involved in school activities or events, not being able to study for long hours because you have to head home at some point."
The worst traffic spots Pangilinan depends on are state Routes 54, 125, and 94, she said. Herrera, who is also a Chula Vista commuter, said there are high levels of traffic starting at Interstate 805 and the 94 west and east intersections. 
"The drive from Chula Vista to San Diego State takes 18 minutes on a really good day," Herrera said. "On a bad day, the drive takes up to 45 minutes." 
There are negative aspects of commuting, Pangilinan said. She said this includes the amount of time it takes to get to school, not feeling as involved on campus, not being able or wanting to go to campus for clubs and events and having a harder time building relationships with classmates and other students. 
"If I lived on campus, I'd probably join more clubs and organizations," Pangilinan said. "Since many meet at night, I don't have the motivation to drive back to school or to stay on campus for hours after my classes end."
This is an amazing time to be a commuter student, according to Student Life Advisor Omar Baza. He said there are a lot of programs on the campus, as well as initiatives to help the commuter students who are attending SDSU. These programs include monthly social and academic events.
"Every situation is different," Baza said. "I think that we all understand that everybody has a different fingerprint here. I would definitely recommend coming to chat with myself or if they want to sign up for mentoring programs, I think time management and how we can maximize our time here on campus can definitely be discussed and I'm more than willing to chat with somebody." 
The Commuter Resource Center, located on the second floor of Conrad Prebys Aztec Student Union, is holding nine events throughout the month of May for both commuters and non-commuter students at SDSU. These events include: Sleep Strategy, Cooking Healthy, Eating Fresh, a trivia event and more. The CRC is open for all SDSU students from Mondays to Thursdays from 8:00 a.m. to 8:00 p.m. and Fridays from 8:00 a.m. to 4:30 p.m.