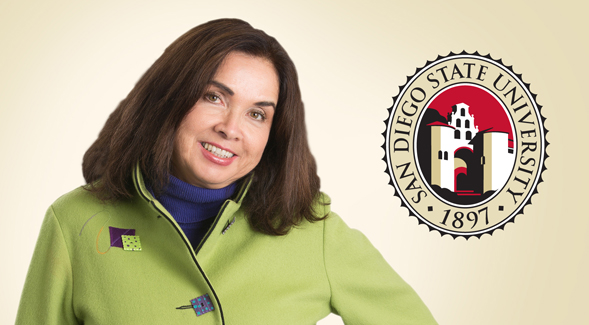 Adela de la Torre, vice chancellor of student affairs and campus diversity at UC Davis, will be San Diego State's next president, officials announced today.
De la Torre will be the first woman to serve as permanent president of SDSU. She's expected to take over in late June 2018.
"SDSU boasts a robust and dynamic variety of academic offerings taught by world-class faculty as well as a commitment to serve a brilliant and diverse population of students," de la Torre said in a press release. "It is an incredibly prestigious university and a wonderful point of pride for San Diego. I am excited to join the vibrant university community that exists both in San Diego and the Imperial Valley, and I look forward to meeting and working with faculty, staff, students, alumni and supporters to further the SDSU mission."
Adam Day, chair of the presidential search committee and vice chair of the CSU Board of Trustees, said de la Torre emerged from a "deep pool of candidates as the perfect person to lead the university."
"Adela is a skilled, student-success focused administrator, and most importantly is a visionary leader," he said.
De la Torre has served in numerous leadership roles at UC Davis since 2002. Prior to her current position, she was director of the Center for Transnational Health and chair of the Chicana/o studies department at the Northern California university.
From the UC Davis website: "She has a long history of positive working relationships between faculty and Student Affairs staff, working closely with student activists during campus protests. She has earned a reputation for being effective at listening, balancing perspectives and helping to minimize tensions on campus."
Before coming to the University of California system, she was director of the Mexican American Studies and Research Center at the University of Arizona from 1996-2002, and was chair of the Chicano/Latino studies department at Cal State Long Beach from 1991-95.
She has a bachelor's degree in political economy and master's and doctoral degrees in agricultural and resource economics, all from UC Berkeley.