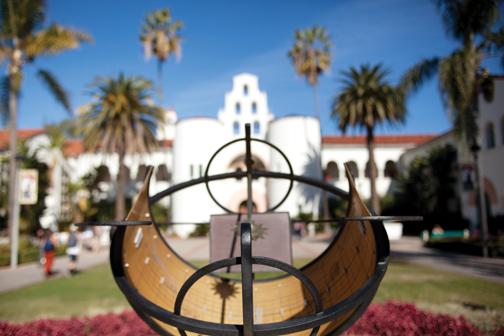 Updated: Monday, May 11 at 1:30 p.m.
San Diego State has confirmed the disbursement of CARES Act funding to students and released the criteria officials are using to determine the amount of these grants, according to a May 11 campus-wide email.
The campus received $29 million to support its students through the legislation, which was passed as part of the federal government's attempts to provide stimulus programs amid the COVID-19 pandemic.
FAFSA data is used to determine the eligibility of each student, following the guidelines of the CSU system. All available CARES Act funding has been dispersed to the students who were eligible. 
"Undergraduate and graduate students, based on eligibility, received between $250 and $800," the email said. "Award amounts differed based on full-time or part-time enrollment status, as well as by financial aid eligibility status, with Pell Grant, State University Grant (SUG), and Cal Grant eligible students receiving higher amounts."
The email also provided guidelines for those who need additional help receiving funds.  
Students who have filed a FAFSA but need additional funding should fill out a CARES Act application, and those who did not receive funding should complete a FAFSA form online if they meet the Title IV eligibility requirements, according to the email.
The CARES Act does not support international students or those in the DACA program. However, the university said it will be "providing financial support to those students through the use of other university and donor supported funds that are not federal dollars."
Students who do not qualify for CARES Act assistance may reach out to ECRT for help with food, housing and financial struggles. 
"We know how challenging and financially difficult the pandemic has been for some members of our community," the email said. "We appreciate having the support of the U.S. Department of Education, and also for our many donors who have provided their own funds to support students who need immediate financial relief."
The federal government awarded California $1.7 billion to disperse to colleges and universities to help support the schools and their students amid the pandemic.
The SDSU Cares Team is currently working to disburse funds and get into contact with students in need. The team can be reached at sll@sdsu.edu.
Original story:
Numerous San Diego State students reported receiving direct payments from the university last night as part of a federal stimulus program.
Campus officials have yet to explain the metrics used to determine how much money each student gets, but students have reported receiving between $250 and $800 through their financial aid portals.
Student recipients received an email saying their financial aid eligibility had been adjusted and that the funds would be placed in their accounts through direct deposit.


The money was provided to SDSU through the CARES Act, a federal stimulus program passed in March to financially support citizens through the coronavirus pandemic.
SDSU received a total allocation of $29,394,934 as part of the legislation, $14,697,467 of which was required to to be distributed to students in the form of emergency financial aid grants.
"The funding we have received for our students, which students do not have to pay back, will provide much needed assistance for food, housing, care and other urgent needs," campus officials said in a May 8 campus-wide email.
The email said students from both the main campus and SDSU Imperial Valley should expect more updates about the disbursements next week.