Parents, students seething over possible suspensions due to COVID-19 policy violations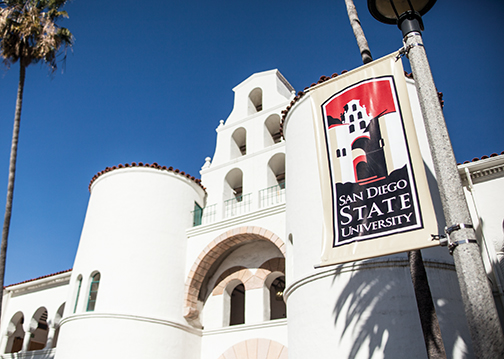 Since September, more than 1,400 San Diego State students began receiving notices of alleged violations of the university's COVID-19 policies.
In late-November to mid-December, some students reported receiving letters outlining suspension for failure to report COVID-19 symptoms or positive COVID-19 tests. Some letters came just days before campus offices closed for winter break, making it nearly impossible for students to contact SDSU for answers. 
As a result, students facing suspension – and their parents – have grown increasingly frustrated with a system they say is unfair and inefficient, going as far as to contact local media and start a Facebook group for other families in the same situation.
"It further goes to show how little the staff cares about the mental health and well-being of students," a student facing suspension said.
SDSU began issuing these letters as part of a campaign to reign in the student population living on-campus and in the College Area after a surge in COVID-19 cases at the beginning of the Fall 2020 semester.
"The vast majority of the 1,438 notices of possible organization or individual violation is a result of complaints filed by either another student, community member or faculty member alleging that the individual was in violation of COVID-19 policies," the university said in an email.
The notices informed students they may face different levels of disciplinary actions from SDSU up to suspension or even expulsion.
Of 1,438 notices, 55 of them resulted in suspension.
Students facing suspension have the option to agree to a settlement choice within 10 days of receiving an email notice or they can try to appeal the decision at a formal hearing, according to the university.
If students decide to forgo the formal hearing process, the settlement agreement outlines two options where students can choose to be retroactively suspended for the Fall 2020 semester (nullifying any coursework completed) or for the Spring 2021 semester.
In both cases, the suspension is documented as a withdrawal on their transcripts and has no effect on their GPA, according to a student awaiting their formal hearing.
Suspended students are still on the hook for tuition and fees, however, and will have to play catch-up in order to graduate on time. 
If they live on-campus, students would also be required to move out during the semester they are suspended.
Within some disciplinary notices, students are also required to write a three-to-five page essay describing the incident and what policies they violated before re-enrolling into SDSU, according to a sophomore who received a suspension notice.
How did students violate SDSU COVID-19 policies? 
The university implemented a testing requirement for all students living on campus at the beginning of last semester on Sept. 15, a month after both online and in-person classes started.
Some of the students facing suspension notices got tested at San Diego County Health and Human Services Agency sites located on-campus parking lots in September.
After they received their results, numerous students didn't report them to the university because most assumed the HHSA sites were school-run and SDSU would already be aware of their positive results, according to some SDSU students facing possible suspension.
However, the drive-up testing site, located in parking lot 17B at 6200 Alvarado Road was classified as a San Diego County testing site, not an SDSU site. 
The only testing site on campus that automatically reports all positive results are the Student Health Services offices located in Calpulli Center. Otherwise, students must upload their results to the Healtheconnect web portal.
The university did notify students of this policy through its COVID-19 Weekly Digest, emails sent to students enrolled in SDSU's surveillance testing program, as well as in the agreement on-campus residents signed before moving in.
Students in the surveillance testing program also received constant reminders via text, email and phone call to submit their testing results if they were overdue. Yet many students were taken off guard by the disciplinary actions.
"It's basically a witch hunt at this point for the school, especially since they were under hot water in September," a sophomore student awaiting her formal hearing said. 
These students wished to remain anonymous due to concerns their disciplinary status could be affected.
The testing requirement implemented in September came after a spike in COVID-19 cases among the university community.
A parent of one of the students facing a suspension notice said, in their opinion, this is SDSU's way of trying to hold someone accountable for the university's high COVID-19 case numbers and to counter some of the pressure SDSU's getting from San Diego County.
Many of the students also noted how inconsistent the communication from their judicial officers has been and response time was as slow as a couple of months.
One sophomore student noted how he and his roommate both got COVID-19 tested at the same time and at the same site. Both received positive results and assumed the school was aware of their results. Yet, only one of them received a suspension notice while the other faced no repercussions. 
"I was back home with my parents at the time for break (when I received the email) and I was wondering if I was going to lose my housing and my job when I came back," the sophomore student said.
The same student got tested at the Alvarado parking lot site in early September and received a suspension notice email about two months later from a judicial officer from the Center for Student Rights and Responsibilities.
The student works for SDSU housing and if they were suspended they'd lose their job and housing since those are only available to currently enrolled students. 
Their boss was not made aware of the student's situation so the student's boss reached out to CSRR and was able to get the student's suspension notice revoked.
Many students aren't as lucky and are going through with a formal hearing to appeal the decision.
Parents of the students facing possible suspension have started a Facebook group to voice their dissatisfaction on how effectively they believe the university is handling the pandemic.
Others are considering legal action. 
Two parents have confirmed there may be potential lawsuits filed against SDSU.
Editor's Note: Clarification regarding the timeline of when the 1,400 notices were sent was added along with additional information about communication channels that included information about where and when students would need to self-report positive COVID-19 test results. The Daily Aztec regrets these errors.