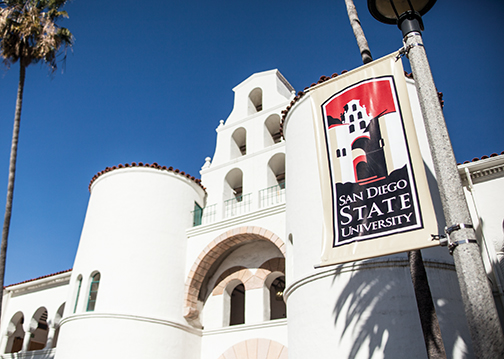 The office of San Diego State President Adela de la Torre sent out a campus-wide email regarding updates to the university's mask update on Feb. 25. 
On March 7 masks will become recommended, but not required, for fully vaccinated individuals when gathering for events or meetings in non-instructional spaces. Unvaccinated persons will still be required to wear a facial covering in these situations.
Unvaccinated persons or those who are not up to date with a booster shot, are still required to wear their masks in all indoor campus spaces. 
For those who are fully vaccinated with a booster shot, a facial covering is still required in all indoor and outdoor instructional settings, and while visiting the Love Library.
All students and staff coming onto campus to receive COVID-19 testing, utilize Student Health Services, or visit the SDSU Children's Center must wear a facial covering at all times, regardless of vaccination status. 
The email also included an announcement about the expansion of the use of the app Bindle, for non-SDSU community members attending SDSU affiliated events.
The app, which was first used by SDSU in the fall of 2021, allows for the verification of the vaccination status of members of the general public wanting to attend SDSU events. 
Previously, non-SDSU community members had to fill out a self attestation form declaring their vaccination status.
Non-SDSU community members will still be allowed to use paper or digital copies of their vaccination card to gain entry into university events, but use of the Bindle app is highly encouraged.